Otomen: Volume 3
By Leroy Douresseaux
August 2, 2009 - 14:24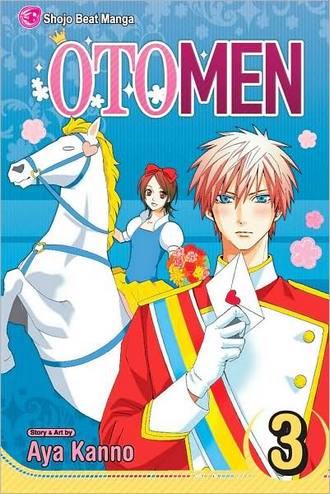 Otomen Volume 3 cover image is courtesy of barnesandnoble.com.
Rated "T" for "Teen"
Asuka Masamune is a guy who loves girly things – an otomen. He likes sewing (even carries a sewing kit), knitting, making cute stuffed animals, cooking (makes beautiful bento meals), and he absolutely loves reading shojo manga. Still, Asuka lives in a world that insists that males act manly, so he hides his beloved hobbies and plunges himself into the role of a masculine jock. Asuka is drawn to Ryo Miyakozuka, a girl who can't sew, bake a cake, or even make a decent bento. There friend is Juta Tachibana, a ladies' man and shojo manga artist who uses Asuka and Ryo as models for the stars of his manga series, "Love Chick."
In Otomen, Vol. 3, Asuka allows Ryo to talk him into helping out temporarily at the day care center where she works. Asuka goes into the job thinking that he has to act manly to impress the children, but one angry, lonely, little boy teaches him otherwise. Then, Asuka and Ryo go to an amusement park for their first date, so why is Juta tagging along?
Next, Juta's female admirers at Ginyuri Academy High School think he's cheating on them, so Asuka volunteers to learn Juta's secrets, only to discover that there are indeed other females in Juta's life – several of them. Finally, readers meet Asuka's new rival, Hajime Tonomine, a national kendo champion and captain of the Kinbara High School kendo team.
THE LOWDOWN: After reading the third volume of Otomen, I can again declare that of the three manga series from creator Aya Kanno that I've sampled (including Soul Rescue and Black Slate), Otomen is by far the most enjoyable to read and the most entertaining. As the narrative progresses, this series is less about the odd love triangle of Asuka, Ryo, and Juta, and more about Asuka and Ryo's burgeoning romance, with Juta along to play cupid, facilitator, and love coach.
As much as this series is about high school romance, much of it is also about all things sweet, sentimental, and girly. Kanno uses the visual prompts of shojo manga (flower tone patterns in the background, sparkle effects, heart shapes in the word balloons, etc.) and panels packed with stuffed animals, decorative food dishes, and frilly knick knacks to create an aura of petite-rococo extravagance.
The sentiment also extends into character drama. The first chapter, featuring Asuka at the nursery, is a sugary character piece. It has Asuka and Ryo playing reverse gender roles to a petulant child who is suffering the grave emotional wounds of his parents' divorce. It's heartwarming… if you're into that sort of thing
POSSIBLE AUDIENCE: The general teen audience for VIZ Media's "Shojo Beat" line of manga will like Otomen, but older readers will find its lovable nature hard to resist.
A-
Last Updated: May 19, 2020 - 12:25