Oresama Teacher: Volume 22 manga review
By Leroy Douresseaux
August 19, 2017 - 20:02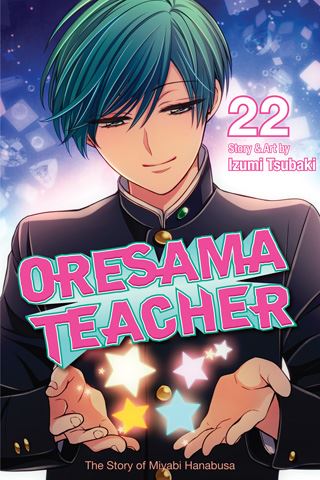 Oresama Teacher Volume 22 cover image
Rated "T" for "Teen"
Mafuyu Kurosaki
was the take-charge, hard-hitting leader ("bancho") of a high school gang. Hoping to reform her daughter of her delinquent ways, Mafuyu's mother sent Mafuyu to
Midorigaoka Academy
, an isolated school far off in the country. There, Mafuyu reunited with
Takaomi Saeki
, the childhood friend who set her on the path of delinquency. Now, Saeki is Mafuyu's homeroom teacher.
As
Oresama Teacher

, Vol. 22
(Chapters 123 to 128) opens, Mafuyu is no closer to discovering the identity of the false, "
Super Bun
." That's Mafuyu's masked secret identity, so who is trying to replace her? Wait, maybe she has been missing the obvious and she does know the identity of the fake Super Bun. Also, "
Team Traitor
," is born, and someone is graduating.
THE LOWDOWN:
I find the Oresama Teacher manga to be a bit inconsistent. At times, it can be a fun read, and when it's good, it's good, although when it is bad, it's not that bad.
Oresama Teacher Volume 22
has a subtitle, "The Story of Miyabi Hanabusa." It is the tale of how Miyabi became the school Student Council president, and the story is a treat for long time readers as it touches upon some background about the school. Plus, the third year students graduate, so this is a turning point, as two major characters move on. So I want to see what happens next, which means this graphic novel is a good one.
I READS YOU RECOMMENDS:
Fans of offbeat high school shojo manga will want to try the Shojo Beat title, Oresama Teacher.
B+
7 out of 10
Rating: 7 /10
Last Updated: August 31, 2023 - 08:12