Oresama Teacher: Volume 20 manga review
By Leroy Douresseaux
May 5, 2016 - 19:11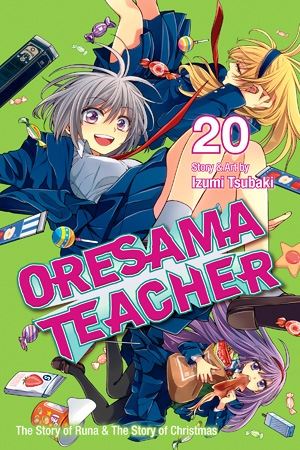 Oresama Teacher Volume 20 cover image
Rated "T" for "Teen"
Once upon a time,
Mafuyu Kurosaki
was the take-charge, hard-hitting leader ("bancho") of a high school gang in Saitama. Hoping to reform her daughter of her delinquent ways, Mafuyu's mother sent her daughter to
Midorigaoka Academy
, an isolated school far off in the country. There, Mafuyu reunited with
Takaomi Saeki
, the childhood friend who set her on the path of delinquency. Now, Saeki is Mafuyu's homeroom teacher.
As
Oresama Teacher

, Vol. 20
(Chapters 111 to 116) opens,
Kaori Hayasaka
deals with his recovered memories. However, when his sisters,
Misaki and Yurika
, suddenly appear, the deepest, darkest truths about his father,
Koichi
, and his mother,
Lydia
, come to the surface.
As he prepares to return to Midorigaoka with Kurosaki, Saeki, and
Shinobu Yui
, Hayasaka decides to pretend that he still has amnesia. That is how he plans to unravel the conspiracy of his recent troubles that
Runa Momochi
plays. Of course, the young hypnotist has her own deep, dark secrets.
THE LOWDOWN:
Dear reader, I usually warn you that I have mixed feelings about the
Oresama Teacher
manga. That is because the series is inconsistent, but when it is good, it is truly good. Sometimes, I wonder if series creator,
Izumi Tsubaki
, is still feeling her way around her creation, even after 100+ chapters.
Oresama Teacher Volume 20
is one of the best graphic novels in the series. The secrets of Hayasaka's family is a doozy, which includes parental induced gender confusion and petty misunderstandings. "The Story of Runa Momochi" is not as crazy and as shocking as Hayasaka's story, but it is close enough. In fact, Runa Momochi fully blossoms as a villainess or at least as a rival. Still, Vol. 20 isn't all soap opera mayhem and melodrama. There is a humorous single-chapter tale about carrier pigeon confusion, and the volume's closing Christmas Eve tale is a nice dessert to a heavy main course.
POSSIBLE AUDIENCE:
Fans of offbeat high school shojo manga will want to try the Shojo Beat title,
Oresama Teacher
.
A
Rating: A /10
Last Updated: August 31, 2023 - 08:12