Oresama Teacher: Volume 19 manga review

By Leroy Douresseaux
December 1, 2015 - 13:25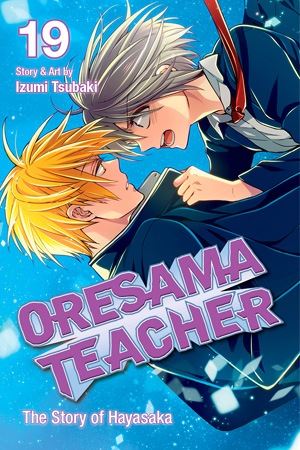 Oresama Teacher Volume 19 cover image
Rated "T" for "Teen"
Once,
Mafuyu Kurosaki
had been a take-charge, hard-hitting gang leader ("bancho"). Hoping to reform her daughter of her delinquent ways, Mafuyu's mother sent her daughter to
Midorigaoka Academy
, an isolated school far off in the country. There, Mafuyu reunited with
Takaomi Saeki
, the childhood friend who set her on the path of delinquency. Now, Saeki is Mafuyu's homeroom teacher.
As
Oresama Teacher

, Vol. 19
(Chapters 105 to 110),
Hayasaka
realizes that he has missing memories, primarily those memories dealing with his friends in the
Public Morals Club
(PMC). The confusion and stress lead to a bad situation, and Hayasaka must return home.
When it is time for him to return to school, however, there is no sign of Hayasaka. Hayasaka's friends, Kurosaki and
Shinobu Yui
(a.k.a. "Ninja"), accompany their teacher, Takaomi Saeki, to their missing friend's secluded mansion in the mountains. What they discover is shocking, including Hayasaka's troubled past. Also, they meet his parents and learn his first name.
THE LOWDOWN:
I usually have mixed feelings about the
Oresama Teacher
manga. The series is inconsistent, but when it is good, it is truly good. "The Story of Hayasaka" is quite revealing of one of the series most popular and important characters.
Oresama Teacher Volume 19
goes deep into Hayasaka with a sense of the pain a person can experience due to family-related drama slash trauma. Creator
Izumi Tsubaki
maintains the series' comedy although this volume can get pretty dark or at least seem like a soap opera. Vol. 19 is an essential volume for longtime readers because of its intense look at Hayasaka's past and present, and I look forward to more volumes like this. I know that I might be wishy-washy about the next, however...
POSSIBLE AUDIENCE:
Fans of offbeat high school shojo manga will want to try the Shojo Beat title,
Oresama Teacher
.
Rating: A- /10
Last Updated: August 31, 2023 - 08:12