Oresama Teacher: Volume 18 manga review
By Leroy Douresseaux
March 25, 2015 - 21:55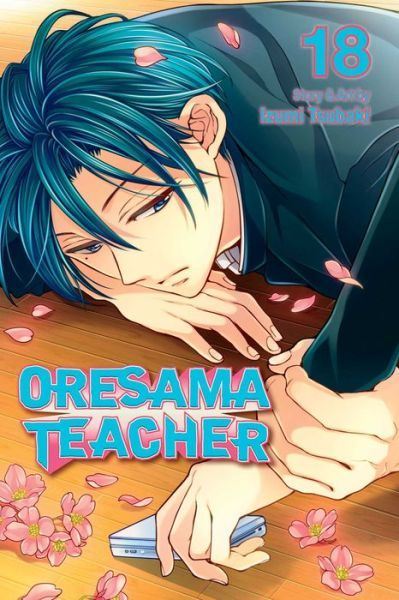 Oresama Teacher Volume 18 cover image is courtesy of barnesandnoble.com.
Follow me on
Twitter
.
Rated "T" for "Teen"
Mafuyu Kurosaki
had been a take-charge, hard-hitting gang leader ("bancho"). Hoping to reform her daughter of her delinquent ways, Mafuyu's mother sent Mafuyu to
Midorigaoka Academy
, an isolated school far off in the country. There, Mafuyu reunited with
Takaomi Saeki
, the childhood friend who set her on the path of delinquency. Now, Saeki is Mafuyu's homeroom teacher.
Oresama Teacher

, Vol. 18
(Chapters 99 to 104) begins with a test of courage. A "kimodameshi" is a popular summer game, in which people must pass through some place scary, alone or in pairs. Now, Mafuyu and
Kohei Kangawa
, her former henchmen, are sharing a stroll through a "
haunted woods
." As per tradition, forces are allied against them, so that the duo won't reach the finish line.
Next, the students of the
Public Moral Clubs
(PMC) spend part of the summer break... cleaning the school! They are rewarded, however, with a trip to the beach, but swimwear becomes a complication. Plus, a new semester begins with questions about student council president,
Miyabi Hanabusa
's motivations, and
Runa Momohi
has a special way to get her questions answered.
THE LOWDOWN:
As usual, I have mixed feelings about the
Oresama Teacher
manga. I find this shonen-flavored, high school shojo series sometimes enjoyable, and other times, it does not do much for me. I thoroughly enjoyed the "haunted woods" chapter than opened
Oresama Teacher Volume 18
.
I find the rest of the volume to be hit or miss. The beach story is okay. I enjoyed all the pages with Miyabi Hanabusa intriguing. This volume does contain information that I will need later, as much as it did not entertain me in a memorable way. After two good volumes, Vol. 18 is a bit of letdown.
POSSIBLE AUDIENCE:
Fans of offbeat high school shojo manga will want to try the Shojo Beat title,
Oresama Teacher
.
Last Updated: August 31, 2023 - 08:12