Oresama Teacher: Volume 17 manga review
By Leroy Douresseaux
October 29, 2014 - 12:06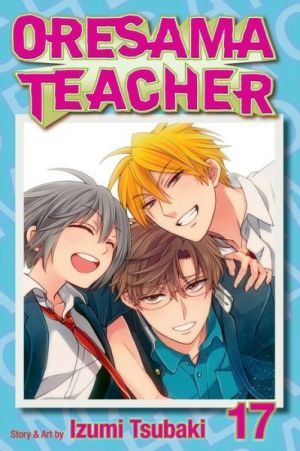 Oresama Teacher 17 cover image is courtesy of barnesandnoble.com.
Follow me on
Twitter
.
Rated "T" for "Teen"
Once upon a time, Mafuyu Kurosaki was a take-charge, hard-hitting gang leader ("bancho"). Her mother, hoping to reform her daughter of her delinquent ways, sends Mafuyu to Midorigaoka Academy, an isolated school far off in the country. However, Mafuyu reunites with Takaomi Saeki, the childhood friend who set her on the path of delinquency. Now, Saeki is Mafuyu's homeroom teacher.
Shinobu Yui joined the Public Morals Club (PMC)... in a bid to help Student Council president, Miyabi Hanabusa, destroy the organization. As
Oresama Teacher

, Vol. 17
(Chapters 94 to 98.5) opens, Shinobu cravenly asks Hanabusa to give him more commands directed at destroying the PMC. It is the "art of the echo," to fulfill any want of Hanabusa's. Now, Yui must face PMC founders, Mafuyu and Hayasaka, but does he have feelings of guilt and self-loathing about his actions?
Later, the students leave Midorigaoka for summer break. Mafuyu returns to her hometown and starts spending time with her old "gang." When they begin asking questions about her school life, Mafuyu isn't sure what to say. Her answers lead to a date with Kangawa.
THE LOWDOWN:
When it comes to the Oresama Teacher manga, I have had mixed feelings about this shonen-flavored, high school shojo series. Filled with fights, the series is at its best when the conflicts are about personal relationships and friendships.
In
Oresama Teacher Volume 17
, creator
Izumi Tsubaki
offers an intense battle of wills between a complex web of friendships and allegiances. I found myself fully buying into Shinobu Yui's dilemmas, and there is also an excellent mini-martial arts duel. Mafuyu's summer break also offers an intense battle of wills, of a sort. Once, again, I find myself confused by how inconsistent Oresama Teacher is, but, at least, the last two volumes have been pretty good reads.
POSSIBLE AUDIENCE:
Fans of offbeat high school shojo manga will want to try the Shojo Beat title,
Oresama Teacher
.
Last Updated: August 31, 2023 - 08:12