Oresama Teacher: Volume 16 manga review
By Leroy Douresseaux
March 9, 2014 - 18:14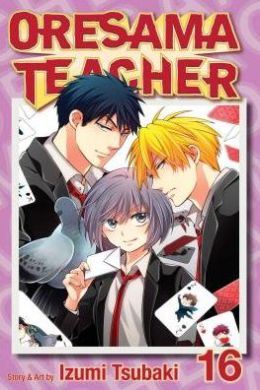 Oresama Teacher Volume 16 cover image is courtesy of barnesandnoble.com.
Rated "T" for "Teen"
She was the take-charge, hard-hitting gang leader ("bancho") at her high school. Mafuyu Kurosaki's mother, tired of her daughter's delinquent ways, sends her to Midorigaoka Academy, an isolated school far off in the country, hoping that it can reform her. However, Mafuyu reunites with Takaomi Saeki, the childhood friend who set her on the path of delinquency. Now, Saeki is Mafuyu's homeroom teacher.
As Oresama Teacher, Vol. 16 (Chapters 88 to 93) opens, Aki "Akki" Shibuya is still chasing Komari Yukioka. Komari is a member of Student Council, and her attraction to Akki was just another part in the council's scheme to shut down the Public Morals Club (PMC), to which Akki belongs.
Now, Student Council president Miyabi Hanabusa makes his next move to take down the council's biggest rival. PMC members start dropping away, and the club's longest serving members, Mafuyu and Hayasaka, cannot figure out why. Now, their advisor, Takaomi Saeki, has joined them to solve the mystery.
THE LOWDOWN: I like to start off my reviews of the Oresama Teacher manga by admitting that there have been times when I have been barely entertained by it. This shojo high school manga has an offbeat sensibility, but that also makes the series subject to being inconsistent. There are story arcs that are basically about nothing more than fist fights, feuds, squabbles, conflicts, etc. that are barely coherent.
Then, there are story arcs like the one in Oresama Teacher Volume 16 that finds the Public Morals Club nearly destroyed. Here, creator Izumi Tsubaki, who is good at fashioning dramatic conflict, shows some of her best storytelling. That saves this volume which starts off with some boring leftovers from the previous volume.
POSSIBLE AUDIENCE: Fans of offbeat high school shojo manga will want to try the Shojo Beat title, Oresama Teacher.
Rating: B+ /10
Last Updated: August 31, 2023 - 08:12