Oresama Teacher: Volume 15 manga review
By Leroy Douresseaux
December 31, 2013 - 19:02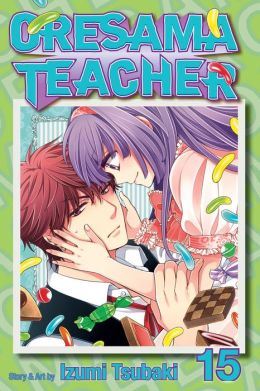 Oresama Teacher Volume 15 cover image is courtesy of barnesandnoble.com.
Rated "T" for "Teen"
Formerly the take-charge, hard-hitting gang leader ("bancho") at her high school, Mafuyu Kurosaki finds herself at Midorigaoka Academy. Mafuyu's mother, tired of her daughter's delinquent ways, sends her to the isolated school far off in the country, hoping that it can reform her. However, Mafuyu reunites with Takaomi Saeki, the childhood friend who set her on the path of delinquency. Now, he is her homeroom teacher.
As Oresama Teacher, Vol. 15 (Chapters 82 to 87) opens, Mafuyu and the second years at Midorigaoka Academy take a class trip. However, West High, the rival of Mafuyu's old high school, East High, is also taking a class trip – to the same place as Midorigaoka Academy! Now, the bancho of West High, Sakurada, is ready to restart his rivalry with Mafuyu, and she wonders if that will ruin her now normal life.
Meanwhile, back at Midorigaoka Academy, Aki "Akki" Shibuya, is one of the second years who did not make the trip. He suddenly finds himself the target of a plot by the Student Council, rivals of the Public Morals Club, to which Akki belongs. Komari Yukioka plans to use her wiles, known to ensnare both males and females, to steal Akki for the Student Council. Akki doesn't plan to be that easy.
THE LOWDOWN: There have been times when I have been barely entertained by the Oresama Teacher manga. This shojo high school manga, with an offbeat sensibility, is the definition of hit-and-miss. The amusement park story, with its reunion of Mafuyu and her old troubles, is a nice story, but nothing special, although it did have the potential to be exceptional. The story simply fizzled more than it popped.
The gem of Oresama Teacher Volume 15 is the Akki vs. Komari story. How good is it? Well, this story could stand alone as its own graphic novel. Creator Izumi Tsubaki is good at conflict, especially when she makes a feud, rivalry, or dispute a friendly squabble in which both side can alternate playing good guy/bad guy. Akki vs. Komari is what makes Vol. 15 a series standout.
POSSIBLE AUDIENCE: Fans of offbeat high school shojo manga will want to try the Shojo Beat title, Oresama Teacher.
Rating: A- /10
Last Updated: August 31, 2023 - 08:12