Oresama Teacher: Volume 14 manga review
By Leroy Douresseaux
July 19, 2013 - 09:04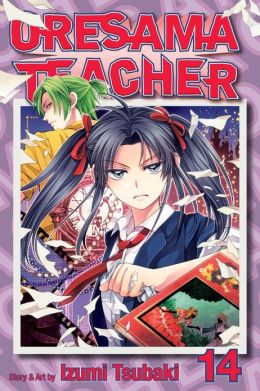 Oresama Teacher Volume 14 cover image is courtesy of barnesandnoble.com.
Rated "T" for "Teen"
She was once the take-charge, hard-hitting leader of her high school gang. Her mother, tired of her daughter's delinquent ways, sends her to Midorigaoka Academy, an isolated school far off in the country, in the hope that the school could reform her daughter, Mafuyu Kurosaki. However, Mafuyu reunites with Takaomi Saeki, the childhood friend who set her on the path of delinquency and who is now her homeroom teacher.
As Oresama Teacher, Vol. 14 (Chapters 76 to 81) opens, Mafuyu and the rest of the Public Morals Club (Shinobu Yui, Aki "Akki" Shibuya, Hayasaka, and Kyotaro Okegawa) continue their rescue mission. Whom are they trying to rescue? The delinquent boys of Kiyama High School have kidnapped Kanon Nonoguchi, from the PMC's rival, the Student Council. Now, Mafuyu, in her guise as the teen boy, Natsuo, must battle Nogami, the bancho (gang leader) of Kiyama High in order to save Nonoguchi. But Nogami and Nonoguchi share a troubled history.
Next, Takaomi Saeki heads to a hometown wedding. Mafuyu and Akki tag along and decide to visit Mafuyu's old stomping ground, East High. Now, it's time for some secrets of her past to return and be revealed.
THE LOWDOWN: The Oresama Teacher manga is a shojo high school manga, but it has an offbeat sensibility. The series is at its best when creator, Izumi Tsubaki, is introducing quality new characters and pitting them against other characters in clearly defined conflicts. However, Tsubaki often simply goes her own way with the narrative, and so the series can be strange, wild, and untamed.
Oresama Teacher Volume 14 offers a look into Mafuyu Kurosaki's past. I don't know if this makes the character more appealing or makes her motivations and personality coherent, but it is good to know more about her.
POSSIBLE AUDIENCE: Fans of offbeat high school shojo manga will want to try the Shojo Beat title, Oresama Teacher.
Rating: B+ /10
Last Updated: August 31, 2023 - 08:12