Oresama Teacher: Volume 13 manga review
By Leroy Douresseaux
April 26, 2013 - 10:01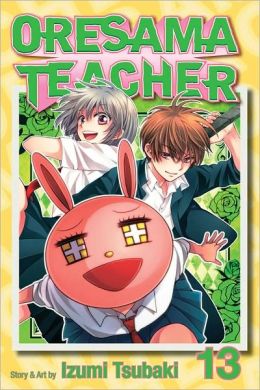 Oresama Teacher Volume 13 cover image is courtesy of barnesandnoble.com.
Rated "T" for "Teen"
Mafuyu Kurosaki was the take-charge, hard-hitting leader of her high school gang. Mafuyu's mother, however, was tired of her daughter's delinquent ways. She sent her to Midorigaoka Academy, an isolated school far off in the country, hoping that the school could reform Mafuyu. However, Mafuyu is reunited with Takaomi Saeki, the childhood friend who set her on the path of delinquency and who is now her homeroom teacher.
So far the Student Council has sent several members to take on the Public Morals Club, the school organization founded by Mafuyu and advised by Saeki. As Oresama Teacher, Vol. 13 (Chapters 70 to 75) opens, Kanon Nonoguchi becomes the latest council member to try and ruin the Public Morals Club. She demands to meet Super Bun and Natsuo at the same time, but both are alter-egos of Mafuyu.
Then, Nonoguchi starts spreading rumors that the boys of Kiyama High School are groping the girls of Class 5 (or "Class G" as in girls) at Midorigaoka Academy. She hopes the Public Morals Club will try to be heroes and just end up hurting themselves. But what happens when rumors become reality?
THE LOWDOWN: Although the Oresama Teacher manga is not a typical shojo high school romance, its offbeat qualities only occasionally appealed to me. The series is at its best when creator, Izumi Tsubaki, is introducing quality new characters and pitting them against other characters in clearly defined conflicts.
Oresama Teacher Volume 13 does that. This is the shojo romance where bonds are created by martial means more so than by romantic outreach. The characters are combative and earn each other's respect. Well, Vol. 13 is all about forming bonds through disputes and high school feuds, and this time, it works so well because Tsubaki has an excellent character in Kanon Nonoguchi. She's complicated and stubborn, and her origin story is poignant and heartbreaking and funny with a left hook. Plus, the art is as pretty as ever, with is clean compositions and smooth line work.
POSSIBLE AUDIENCE: Fans of offbeat high school shojo manga will want to try the Shojo Beat title, Oresama Teacher.
Rating: A- /10
Last Updated: August 31, 2023 - 08:12