Oresama Teacher: Volume 10 manga review
By Leroy Douresseaux
September 7, 2012 - 16:40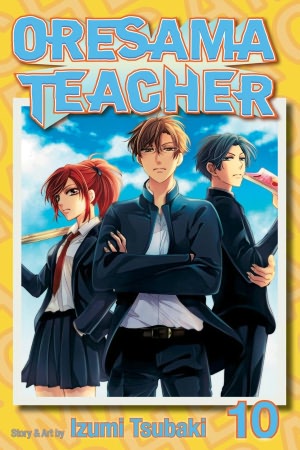 Oresama Teacher Volume 10 cover image is courtesy of barnesandnoble.com.
Rated "T" for "Teen"
Once upon a time, Mafuyu Kurosaki was the take-charge, hard-hitting leader of her high school gang. Mafuyu's mother, however, was tired of her daughter's delinquent ways. She sent her to Midorigaoka Academy, an isolated school far off in the country, hoping that Mafuyu could be reformed. Unfortunately, Mafuyu is reunited with Takaomi Saeki, the childhood friend who set her on the path of delinquency and who is now her homeroom teacher.
As Oresama Teacher, Vol. 10 opens, Shinobu Yui, Student Council member and self-proclaimed ninja, continues his plot to destroy the Public Morals Club. The Student Council members consider PMC members to be their rivals. Mafuyu and lone wolf delinquent, Natsuo Hayasaka, are members of the PMC, and Takaomi is their faculty advisor. Having infiltrated the PMC, Yui is ready to teach them how to defend themselves, and that means teaching them the ways of the ninja.
Then, it's that worst time of the year, when the Student Council audits clubs to see which are given the stamp of approval and which are shut down. This year, Student Council officer, Wakana Hojo, has the literal stamp of approval. Everyone wants it the stamp, and many are willing to steal it. Hojo has her sights on closing down the Public Morals Club, but soon, the club's secret weapon, Super Bun, will have to keep Hojo from being shut down.
THE LOWDOWN: As I've written before, the Oresama Teacher manga is not a typical shojo high school romance. There are a few reasons. Many of the lead characters are juvenile delinquents, and the ones that are not delinquents are not above acting like delinquents to get their way. This is also a series that often depicts violence, for comic effect, however.
I did not like the ninth volume of this series, but the tenth is a definite improvement. The conflicts and goals are clearer, and the last chapter of this volume gives an origin story of the semi-love triangle that is Yui, Hojo, and Miyabi Hanabusa. The art also shines. It is pretty when the story moves quickly and there are fight scenes. Visually, there is a breathtaking quality to the graphical storytelling. The compositions are clearer and the line work is sharp and clean. It looks as if creator Izumi Tsubaki actually knows where this story is going – this time.
POSSIBLE AUDIENCE: Fans of offbeat shojo manga will want to try Oresama Teacher.
Rating: B /10
Last Updated: August 31, 2023 - 08:12