Oresama Teacher: Volume 9
By Leroy Douresseaux
July 13, 2012 - 11:27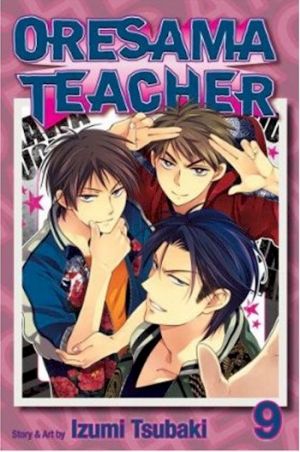 Oresama Teacher Volume 9 cover image
Rated "T" for "Teen"
Once, Mafuyu Kurosaki was the take-charge, hard-hitting leader of her high school gang, and she united Saitama Prefecture. Tired of her delinquent ways, Mafuyu's mother sent her to Midorigaoka Academy, an isolated school far off in the country, hoping that Mafuyu could be reformed. Unfortunately, Mafuyu is reunited with Takaomi Saeki, the childhood friend who set her on the path of delinquency and who is now her homeroom teacher.
As Oresama Teacher, Vol. 9 opens, the students of Midorigaoka prepare for the yearly school festival, and Mafuyu is still disguised as Natsuo Hayasaka. When students start disappearing at the end of the school day, Mafuyu decides to solve the mystery. She wonders if the disappearances have anything to do with the school festival and why. Meanwhile, tensions between Midorigaoka and a nearby rival school, Kiyama High, rise. It could lead to a disaster, and if that disaster is anything like the riot three years earlier, Midorigaoka could be ruined.
THE LOWDOWN: The Oresama Teacher manga is not a typical shojo high school romance. Many of the lead characters are juvenile delinquents and the action often depicts violence. Although this is meant to be comedy, the violence sometimes dictates the resolution and is not-so-funny. I find that Oresama Teacher works best as a situation comedy. That said: I did not care for this volume. Practically every page depicts some kind of fight, prank, or feud or that page is about working its way towards more fights and pranks. I couldn't get into it.
POSSIBLE AUDIENCE: Fans of action-oriented shojo manga may want to try Oresama Teacher.
Rating: C /10
Last Updated: August 31, 2023 - 08:12