Oresama Teacher: Volume 7
By Leroy Douresseaux
March 6, 2012 - 09:06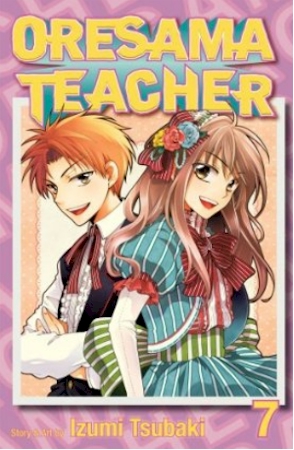 Oresama Teacher Volume 7 cover image
Rated "T" for "Teen"
Mafuyu Kurosaki was the take-charge, hard-hitting leader of her high school gang, and she united Saitama Prefecture. Tired of her delinquent ways, Mafuyu's mother sends her to Midorigaoka Academy, an isolated school far off in the country, hoping that Mafuyu can be reformed. Unfortunately, Takaomi Saeki, the childhood friend who set Mafuyu on the path of delinquency, is her homeroom teacher, and she also befriends an eccentric delinquent named Hayasaka.
In Oresama Teacher, Vol. 7, Mafuyu learns Takamomi's secret. He is trying to save Midorigaoka, and he has made a bet the school's director, Toshio Hanabusa, to double applications in three years. Mafuyu decides to put her all in helping him, but with finals approaching, can she give him her all? Plus, Mafuyu goes home for summer break, but is she ready to see her old crew?
THE LOWDOWN: As shojo manga go, the Oresama Teacher manga seems like a typical high school shojo romance, except that the stars and many of the other characters are juvenile delinquents. Having a teacher battle the school director to save the school is a nice twist. I'd like to see more of that storyline in the manga. In fact, the whole panic-over-finals chapter lacked the punch of the main story. I'm curious about future developments, but I can't say that I'm a big fan of this series.
POSSIBLE AUDIENCE: Shojo fans/addicts will want Oresama Teacher.
B
Last Updated: August 31, 2023 - 08:12