Oresama Teacher: Volume 6
By Leroy Douresseaux
December 31, 2011 - 12:16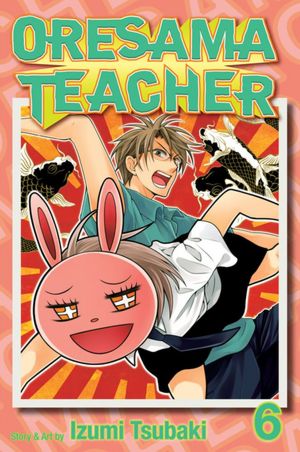 Oresama Teacher Volume 6 cover image is courtesy of barnesandnoble.com.
Rated "T" for "Teen"
Mafuyu Kurosaki was the take-charge, fist-fighting leader of her high school gang. Tired of her delinquent ways, Mafuyu's mother sends her to Midorigaoka Academy, a remote school far off in the country, hoping that Mafuyu can be reformed. Unfortunately, Takaomi Saeki, the childhood friend who set Mafuyu on the path of delinquency, is her homeroom teacher, and she also befriends an eccentric delinquent named Hayasaka.
In Oresama Teacher, Vol. 6, rival Shinobu Yui, a Student Council member, plots the downfall of Kurosaki and Hayasaka, so he joins the Public Morals Club with them. Later, Kurosaki learns of a bet that Saeki has with the school principal, so when she confronts Saeki, he makes a shocking decision. What is the secret that he is hiding?
THE LOWDOWN: It would be a lie for me to say that I look forward to reading Oresama Teacher. It really is a typical high school shojo romance, but the stars are juvenile delinquents. I can say that this is not one of the better shojo. That is until I learned Takaomi Saeki's past and his secret. Now, this narrative has a purpose, and I think from this point on it will be worth following.
POSSIBLE AUDIENCE: Shojo fans/addicts will want Oresama Teacher.
B
Last Updated: August 31, 2023 - 08:12