O-Parts Hunter: Volume 15
By Leroy Douresseaux
April 12, 2009 - 12:43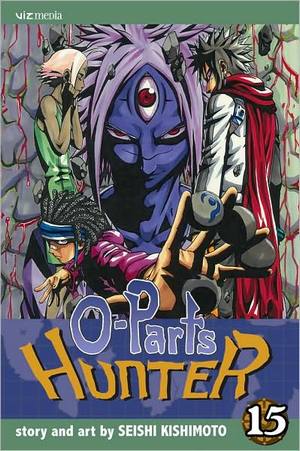 O-Parts Hunter Volume 15 cover image is courtesy of barnesandnoble.com.
Rated "T+" for "Older Teen"
On the world of Ascald, mankind battles over "O-Parts," powerful relics from an ancient civilization. An O.P.T. (O-Parts Tactician) has the ability to release and use the power within an O-Part. Jio Freed, a young boy with a tragic past, dreams of world domination and trusts only one thing – money. He doesn't realize that he is a very powerful O.P.T. with a monstrous demon inside him. With his partner, the treasure hunter Ruby Crescent, Jio seeks to gather as many O-Parts as he can.
O-Parts Hunter, Vol. 15 opens 4 years after Rock Bird. Jio, Ball, Kirin, Cross, Amidaba, and May invade the Stea Government headquarters, where Ruby's body is held by the government's leader, Amaterasu Miko. Sneaking in is easy, but the group soon finds itself battling formidable foes. Ball and May face May's big brother, Tsubame, who was believed to be dead. Kirin and Amidaba take on fearsome Chief of Staff Dofwa. Meanwhile, Jio and Cross take on an archangel!
THE LOWDOWN: While it is both inventive and disturbing, O-Parts Hunter, a shonen manga (comics for teen boys), can be wildly inconsistent in tone depending upon where the stories are in the overall narrative. It can be disturbing and imaginative or even thoughtful and poignant. This fifteenth volume of O-Parts Hunter comes across as a clone of such shonen as Bleach and Naruto (which is the creation of Masashi Kishimoto, Seishi's twin brother) – with lots of fights that look as if they're right out of these two popular titles. There's nothing wrong with that; in fact, there are some interesting, imaginative visuals here, but this volume of O-Parts Hunter comes across as too light for what is an especially dark series.
POSSIBLE AUDIENCE: Fans looking for a darker take on the shonen fight comic will (usually) find it with O-Parts Hunter.
B+
Last Updated: January 24, 2022 - 11:00