O-Parts Hunter: Volume 6
By Leroy Douresseaux
October 1, 2007 - 10:00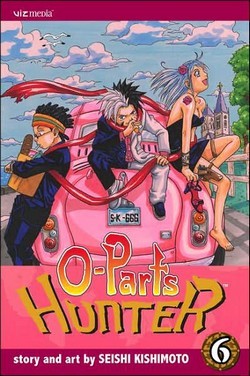 Thanks to barnesandnoble.com for the image.
The manga series
O-Parts Hunter
, a shounen manga by Seishi Kishimoto (the twin brother of
Naruto
creator, Masashi Kishimoto), takes place on the world of Ascald and is set in an indeterminate future in which mankind battles over "
O-Parts
," artifacts from an ancient civilization that contain mystical powers.
An O.P.T. or O-Parts Tactician has the ability to release and use the power within an O-Part via the O.P.T.'s "Spirit," the special energy force inside an O.P.T. that allows him or her to release the power or "effect" of an O-Part. An O.P.T named Jio Freed, who dreams of world domination, and a treasure hunter named Ruby Crescent, who seeks the whereabouts of both a legendary O-Part and her missing father, travel the world together.
As O-Parts Hunter, Vol. 6 begins, it is clear to the citizens of Entotsu City that they have been saved from Armageddon thanks to Jio. However, Jio saved the city by freeing the evil spirit that dwells deep within his heart to destroy the monstrous O-Part, Mexis. Now, it's time for the second showdown between Jio and Wise Jury, the Crimson Magician. As they battle atop the body of Mexis, Jio struggles to keep the evil within at bay.
[This volume also includes the short story, "Trigger," Seishi Kishimoto's manga debut.]
THE LOWDOWN: The second Jio/Wise Yury battle does not disappoint. However, it is the combination of Kishimoto's solid comic illustration skills and his mix of heavy character drama and heady action that sells this book, and thus far the mixture has been highly consistent. Although not as well known in America as Naruto or even Bleach, O-Parts Hunter often matches them in entertainment quality.
POSSIBLE AUDIENCE: O-Parts Hunter is a VIZ Media title for older teens that will attract younger teens because it is hardcore shounen manga (boys' comics).
B+
Shop for o-parts at the Amazon aStore.
Last Updated: January 24, 2022 - 11:00