Dench & Blanchett Make Great "Notes on a Scandal" (2006 Oscar Nominee)
By Leroy Douresseaux
May 6, 2007 - 11:41
Notes on a Scandal (2006)
Starring: Judi Dench, Cate Blanchett, Bill Nighy, Andrew Simpson, Juno Temple, Max Lewis, and Stephen Kennedy
DIRECTOR: Richard Eyre
WRITER: Patrick Marber (based upon the book What was She Thinking: Notes on a Scandal by Zoë Heller)
PRODUCERS: Scott Rudin and Robert Fox
GENRES: Drama, Thriller
RATING: MPAA - R for language and some aberrant sexual content
DISTRIBUTOR: Fox Searchlight/20th Century Fox
Notes on a Scandal is a chance to see two of the world's best actresses delivering tour de force performances. For people who love great acting and great actresses, this film is a treasure trove. It's rare when two actors are this good in the same movie where the script requires them to perform together during most of the film. Together, Judi Dench and Cate Blanchett are enough to burn out your eyes.
Barbara Covett (Judi Dench) is a senior faculty member at St. George's, a decaying, state-run secondary school. Lonely and bitter, she hasn't connected with the rest of the faculty, but she rules over her class with an iron fist. Barbara does take an interest in the school's newest faculty member, a pretty art teacher named Sheba Hart (Cate Blanchett). Sheba ends up in an illicit affair with, Steven Connolly (Andrew Simpson), a 15-year old male student. After Barbara accidentally discovers this, she confronts Sheba, but promises not to tell if Sheba ends the affair. Barbara also plots to use this intimate secret as a way to coerce Sheba into having an affair with her, but when Sheba continues the relationship with Steven, things turn ugly. In a moment of blind jealousy, Barbara does something that will hurt all involved, including Sheba's husband, Richard (Bill Nighy), and will also bring the secret deceptions and dark obsessions to the surface.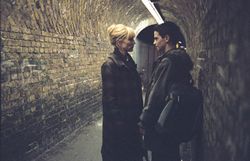 And so the trouble begins... teacher and student love.
The sign of a quality movie director is his ability to recognize a significant movie script and then, be able to turn it over to great actors and help them bring forth great performances. Richard Eyre (who previously directed Judi Dench to an Oscar nomination in 2001's Iris) is such a quality film director. Patrick Marber's script encapsulates what it feels like to be alone even in a crowd of familiar people, including one's on family, and that's to say nothing of Marber's treatise on people so lonely they victimize other people to satisfy their need for connection and companionship. (Sheba calls Barbara a vampire, late in the film) Eyre doesn't lose the richness of either Marber's rich narrative or his complex look at the potential selfishness of neediness.
In spite of the good directing and writing, many will remember Notes on a Scandal for the two tremendous performances that literally make and define this film. Indeed, over the years, other movie lovers will seek out Notes precisely to see why so many other fans will still be raving about Judi Dench and Cate Blanchett. Dench defines Barbara with a domineering presence, a powerful and direct voice, a demeanor that might give a mugger pause, and the haughty attitude to end haughty attitudes. She makes Barbara so dishonest in her dealings with people that she could give the Prince of Lies a run for his money. Dench intensely uses her skills and still manages to make Barbara feel genuine and authentic as a person.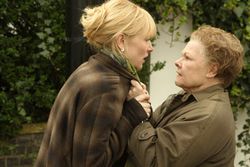 And here's the old cow taking advantage of the dark secret.
Meanwhile, Blanchett builds her character physically. The secret life of Sheba and her general unhappiness and malaise are evident in the way Blanchett moves. It is in a gaze or a wave of the arms - in the way she dances, the way she cries, or even how she sits in a chair. Blanchett opens the audience to what is real about Sheba, and what she's hiding and the lies she's telling. Movies like Notes on a Scandal that make you appreciate genuine acting and filmmaking talent and the skill to put that talent to practical use.
A horror movie in all but name, Notes on a Scandal is as scandalous as its subject matter, but this highbrow freak show is a feast of film acting
A
2007 Academy Awards: 4 nominations: "Best performance by an actress in a leading role" (Judi Dench), "Best performance by an actress in a supporting role" (Cate Blanchett), "Best writing, adapted screenplay" (Patrick Marber), and "Best achievement in music written for motion pictures, original score" (Philip Glass)
Al Katrina reviews this film: http://www.comicbookbin.com/notesonascandal101.html
Tony Farinella reviews the DVD release of this film: http://www.comicbookbin.com/scandal001.html
For more movie reviews, please, visit http://www.negromancer.com.
Last Updated: September 6, 2021 - 08:15