Marvel's Doctor Strange movie review

By Leroy Douresseaux
November 9, 2016 - 19:54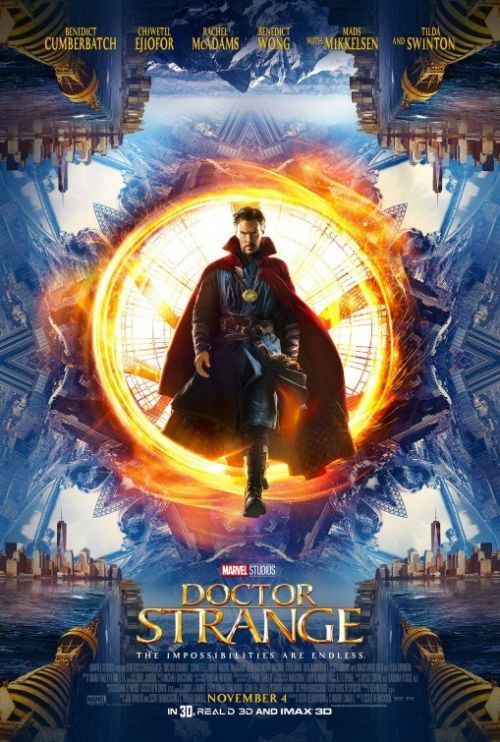 Doctor Strange movie poster
A version of this review originally appeared on
Patreon
.
Marvel Studios' latest superhero-fantasy film,
Doctor Strange
, is not their best film. It is sort of middle of the pack, but its striking and spectacular display of visual effects is probably Marvel's most successful attempt at bending its audiences' minds.
Directed by Scott Derrickson, Doctor Strange introduces Dr. Stephen Strange (Benedict Cumberbatch), an acclaimed neurosurgeon and scientist and also an arrogant and conceited person. After being in a terrible car accident, Strange discovers that his hands are damaged and rendered useless in performing the delicate surgical procedures for which he is celebrated. He obsessively searches for a surgery that will make his hands like they were before, but when he cannot, he turns bitter, even rejecting his co-worker and former lover, Dr. Christine Palmer (Rachel McAdams).
Strange learns of a place called "Kamar-Taj" in Kathmandu, Nepal, where he can be cured. What he discovers is The Ancient One (Tilda Swinton) and sorcerers like Karl Mordo (Chiwetel Ejiofor). They introduce him to other dimensions, to the astral plane, and to the mystic arts, but there is a darker side to this mysticism that Strange will be forced to confront.
The cast of Doctor Strange includes three actors with at least one Academy Award nomination and also one winner (Tilda Swinton). Oscar-nominated Chiwetel Ejiofor appeared in the Oscar-winning "Best Picture," 12 Years a Slave, and Oscar-nominated Rachel McAdams appeared in this previous year's "Best Picture" Oscar-winnner, Spotlight. Mads Mikkelsen (who plays this film's villain, Kaecilius) has appeared in at least two films that were nominated for foreign-language film Academy Awards.
Doctor Strange needs that acting pedigree because its screenplay is soft and a little weak. Cumberbatch and company go beyond merely making the best of the screenplay. They create character drama, conflict, and tension where it is weak or where there is none in the story. But we know what people are wondering about... the superhero action.
The filmmakers could have taken the material from Marvel Comics Doctor Strange comic books and made something crazy, and they did not play it safe and did indeed make something crazy. Doctor Strange takes the visual effects of Christopher Nolan's 2010 film, Inception, with its shifting buildings and hallways and turns it into something far more nutty.
Every inch of floor, wall, street, bridge, building, structure – everything, y'all, is flipped, shifted, twisted, melted, divided, and sometimes broken. The world of Doctor Strange is like Rubik's cube undergoing an earthquake; Salvador Dali on purple drank, and ice cream cone turned into ice cream dots. Well, you have to see it for yourself, and you should see Doctor Strange.
Doctor Strange is Marvel's weirdest movie; it is the outsider making not only its own corner in the Marvel Cinematic Universe, but also its own shifting realities. Director Scott Derrickson is known for making low-budget horror films like Insidious. He proves that he can play in the bigger sandbox that is Marvel Studios and Walt Disney Pictures. Doctor Strange is not perfect, but it tries to be as "out there" as a Marvel movie can be and still be part of a universe that includes the Avengers, Iron Man, and Captain America movies. There is so much going on in Doctor Strange that I need to see it again.
B+
Rating: B+ /10
Last Updated: September 6, 2021 - 08:15