Batman Hush Harley Quinn
By Hervé St-Louis
December 26, 2004 - 10:10
Batman Hush Harley Quinn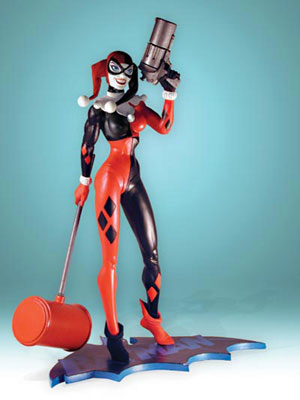 Harley Quinn is the love-struck psychiatrist who decided to join the Joker in her crusade against Batman. Warner Bros introduced Harley Quinn in the Batman Animated cartoon series and appeared in the regular DC Universe, much later. The DC Direct Harley Quinn action figure is part of the second Hush release and the first time the company does the Joker's girlfriend in six-inches. Be careful. This figure breaks very easily.


Likeness


Harley Quinn's costume in the comic books is very similar to the cartoon version. The action figure takes after the comic book version where Harley has more realistic proportions. Jim Lee drew the models for the action figures. The tufts on her mask are pointing down, unlike those drawn by other comic book artists and the cartoon. The checks on her suit are not in the same direction as other comic books or the cartoon.

Sculpt

Harley Quinn is pre-posed. This might annoy many collectors who prefer standard posing. Harley rests on her right leg, while the left one, lipping behind points leftward. Surprisingly, they have not preposed the rest of her body. Her arms are moveable allowing Harley to look posed or assume a simple posture. Harley Quinn has a nasty grin on her face, showing her mischievous qualities, and her big cartoon eyes.

Paint

Harley Quinn's paint job is great, although there is place for improvements. The red decals on her left leg and right arm are not thick enough and show the base colour underneath. Harley has pink eye shadow that looks good on her. There are some white paint spills in the collar area. Instead of being white, Harley Quinn's face is pearl which is a good contrast with her white teeth.

Scale

Harley Quinn fits with other Batman Hush figures. Hush figures have varying heights but are thinner than other DCDirect action figures. Because she's a woman, Harley Quinn is easier to mix and match with other figures too. Yet, next to the Silver Age Joker action figure, Harley Quinn looks fine though she's taller than him. At this point scaling issues are very difficult to handle with DCDirect's six inches figures.

Stability

Although she's preposed, Harley Quinn will stand up. She won't stand a second without her action figure stand. Her mallet, gun and left leg all destabilize her. However, with the action figure stand, there are no problems at all. The figure is solid. The Batman action figure stands are bad for ultimate stability, as they only the middle area connects with the resting surface. Weight doesn't distribute well with them.

Articulation

Harley Quinn has eleven articulations at the neck, the shoulders, the elbows, the wrists, the hips and the knees. Of course her neck has a ball joint, but it's tilted on the right, so it's not exactly free flowing. There are limited ball joints in the shoulders. Because they have preposed her legs, the articulation in the hips is useless. The elbows and Knees' articulations don't have limits too. They won't bend completely.

Plastic

The plastic used by DCDirect is cheap and the reason my figure is already broken. Harley's limbs are thin and made from stock that's thinner than older DCDirect figures, or some of JLA Wave Two figures. As these action figures are expensive, I almost feel like I got a McFarlane action figure deal here. A beautiful sculpt that breaks just by looking at it. DCDirect should rethink its manufacturing strategy seriously.

Props

Harley Quinn comes with a mallet and a Batman stylized action figure stand. I don't like the Batman action figure stand because they are easy to topple and instead of providing stability, they provide more opportunity for a figure to fall. They have sculpted the gun on Harley's left hand. Were DCDirect more generous, they would have included a separate spare hand without a gun.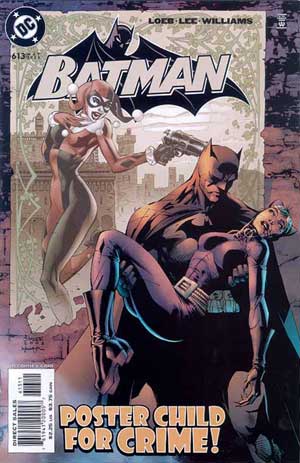 Packaging

All Hush action figures come in a very space friendly and environmentally-friendly cardboard package with a small plastic window. I wish all action figures would come in similar packages, You can easily dump the box in a recycled box or stack unopened figures in a larger box. On the back of the cards, there are descriptions and images of other figures from this wave and the first one.

Cost

Considering I now own a broken figure, a mere two weeks after purchasing it, I feel screwed. Harley Quinn is hardly a deal and though I sell some on here at the Comic Book Bin, I'm not recommending them very strongly. For the price, we get fewer features than a Sota Street Fighter or a Marvel Legends with the added benefit of a figure whose joints break if they fall off your desk.

Availability

Harley Quinn is one of the most popular figures from the second Hush series. It's estimated that DC Direct produced at least 20,000. It's still a limited number compared with other action figure lines. As the best looking Harley Quin action figure and the only one not in the animated style, serious collectors will hunt it down, no matter if the figure's construction is of poor quality. Don't expect Harley Quinn to be available for long.

Read related reviews such as:

Related Articles:
Review: Harley Quinn #64
Review: Harley Quinn #63
Review: Harley Quinn #62
Review: Harley Quinn #61
Review: Harley Quinn #60
Review: Old Lady Harley #1-5
Review: Harley Quinn #59
Review: Harley Quinn #58
Review: Harley Quinn #57
Review: Harley Quinn #56