Toys / Comics to Toys / DCDirect
Catwoman
By Hervé St.Louis
February 8, 2004 - 13:40
The Silver Age Catwoman and Penguin Set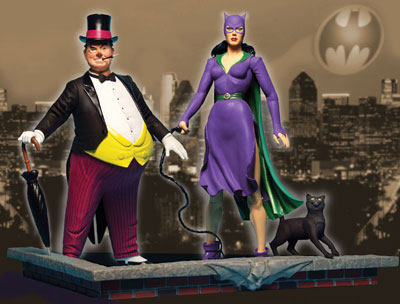 Although recent reviews of DCDirect action figures from the Comic Book Bin were very negative, the Silver Age Catwoman and Penguin action figure set prove that quality is back. It's about time. However, there are serious problems with the figures. DCDirect created these classic Batman villains to fit with the existing Silver Age Batman and Robin set, and the Batgirl and Joker set.

Catwoman

Likeness


This is the Silver Age Catwoman from the page of the comic books. This Catwoman sports a knee-high dress, short rolled-up boots and a widely opened collar, revealing her chest. The front of her mask is black, to mimic artists' inking style in period comics. The eye openings of her mask are wide. Her face is stark and much more serious than Batgirl's. She stands on her legs, like a domineering woman.


Sculpt


While carrying a whip in right hand, her left hand is gently poised like a gracious cat. Catwoman's ass and hips are very large and wide. They look too big compared with her chest. The right leg of Catwoman is arched like the Modern Superman action figure. It shouldn't. Catwoman's lower abs have a bump as if she were in early pregnancy. Catwoman's clothes flow on the left as if wind were blowing them from the right.


Paint


Catwoman's paint job is excellent. Catwoman's paint scheme is simple. DCDirect used the dark purple on the rubber part of Catwoman's skirt and painted the exterior like the rest of her dress. Catwoman's face show the classic DCDirect care that has been missing in recent months. Her cheeks are reddish. Her hairs have bluish tints. The inside of Catwoman's cape and her belt are shinny and her boots, polished.


Scale


Catwoman fits well with the Silver Age Robin, Batgirl, Batman, The Penguin and the Joker. She plays well with the Birds of Prey Oracle, Black Canary and Huntress. It seems that DC is gearing up special scales for each period of character, which would explain why it's often difficult to mix and match with other runs. For example, Catwoman looks bad next to the Kingdom Come Hawkman or the JLA Flash.


Stability


Catwoman is not stable. Because of her high heels, she is prone to fall constantly. The Silver Age Batgirl was far less problematic, although she wasn't completely stable. Part of the problem is Catwoman's short feet and the polish under her shoes which makes them slippery. Using the rooftop stand that comes with the figure will improve stability but not much. To be effective, both of her feet should have peg holes.


Articulation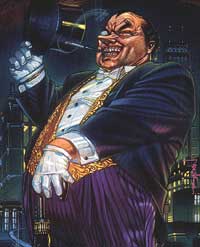 Catwoman has nine articulations at the neck, the shoulders, the elbows, the hips and the knees. Her shoulders are ball-jointed. However, Catwoman's high shoulder pads limit their movability. The best articulation of the figure is the neck. It is ball-jointed. However, Catwoman's head can nod forward and sideways. Unlike many DCDirect female figures, Catwoman's hairs don't limit her head's motion.
1 2


Read related reviews such as:

Last Updated: January 24, 2022 - 11:00