Every Woman Wants a Harley Quinn Costume For Halloween
By Hervé St-Louis
October 29, 2006 - 08:30
www.zoogstercostumes.com
There are few times per year, where one can see super heroes and villains prancing through the street of our own Gotham Cities and it's at annual comic book conventions, like the large one in San Diego or around Halloween. Comic Book characters have always been popular entities to reproduce as Halloween costumes and masquerade because by default, they sport colourful costumes, gaudy gadgets, and are larger than life.
In fact anything in popular culture is a candidate for Halloween costume designers. Over the years, costume manufacturers have filled this need by designing costumes for every age and gender. Accordingly, a particular super heroes' costume is more popular according to the latest craze or movie release in Hollywood. This year, with the Return of Superman, being the important genre blockbuster of the season, one expects to see many Supermen toddlers on Halloween night.
Of course, more Supermen, spills over into more Supergirls. Female characters that are known enough to be created as disguises are few, and of those, many wear costumes that would fit better in a brothel, rather than kindergarten. Although manufacturers will cover Wonder Woman's bare legs and chest with leggings and a T-shirt, Wonder Woman continues to look like a pin up girl.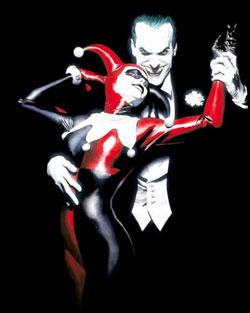 Alex Ross' Harley Quinn
Leather-like costumes of Catwoman seem to fair well in older women, although they would not be appropriate for small girls. Villains, of course, are always more interesting than heroes, and that's why one of the most popular costumes of all time, for women has to be Harley Quinn's. Harley Quinn, the Joker's sidekick and aid, introduced Batman: The Animated Series in the episode "Joker's Favor," in 1992 remains the ultimate Halloween costume for the ladies.
Harley Quinn
has it all. She has a colourful costume covering her entire body, and sports a cap 'n bells making her resemble a carnival's jester. But best of all, Harley Quinn is inspired from a character with a great comedic and disguise history, Harlequin. Harlequin, mostly known as Pierrot's opponent in Commedia dell'arte, was a type of clown and acrobat with colourful diamond patterns on his costume. Dim witted, he is maleficent and a prankster.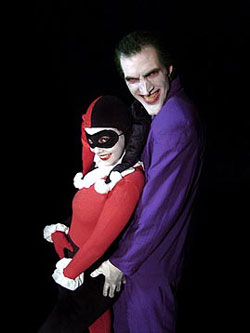 Patient J. Fanfilm
Although a cartoon character, Harley Quinn rises above that and can appeal to women on another level as a comedic lovable and mischievous character much different from the joker. Visually, her costume is striking with opposing colours. Wearing a bodysuits, also help women hide unwanted curves!
Harley Quinn costumes frequently sell out at retailers
before the Wonder Women and Supergirls suits. In recent years, the realistic painting of the character by artist Alex Ross and the portrayal of the
character in fan films
have probably increased the character's popularity. Combined with the other assets of the character as derived from a great theatrical it's not difficult to understand why every year thousand of women want to be Harley Quinn on Halloween night.
Last Updated: February 5, 2023 - 09:06