Batman Hush Catwoman
By Hervé St-Louis
December 27, 2004 - 10:13


The Hush Catwoman is the second action figure of the character created by DC Direct. Appearing in the Batman Hush storyline, drawn by Jim Lee, this is also the first Catwoman action figure based on the newest costume she adopted recently. The other Catwoman action figure released this year was of the Silver Age version. No matter how much one likes Jim Lee, I really hope we'll get a better figure soon.



Likeness



Sculptor Tim Bruckner completely adapted Jim Lee's Catwoman for the action figure. She has the short compressed face, the long legs with the stubby torso. A trademark of Lee's catwoman is that her boots don't have buccaneer's flaps. Instead, they are opened and larger on top. Another trademark is that Catwoman's belt is a large set of ropes tied around her waist. Make no mistake, this is Jim Lee's Catwoman.



Sculpt



I don't like the sculpt at all. The proportions are off. I know it's common for men to desire woman with long sensuous legs and short torso, but I prefer my action figures to have more appropriate proportions. Here lies the problem of action figures based on artists' work, instead of generic looks. A true fan of the artist will always enjoy the figure. A fan of the character will often be unsatisfied. I wonder what DC Direct prefers?



Paint



This figure has no complex paint job as it's all black. Of note, DCDirect added some polish to Catwoman's leather boots and gauntlets. They gave her a toupee that comes right off her mask. Fortunately, it's not very cheesy.



Scale



The scale is where most of the problems occur. Catwoman looks like an anorexic teenager. Although created to fit with other Hush action figures, she's taller than the Hush Nightwing. This is not a Catwoman action figure. This is Big Ethel in a leather suit. Catwoman doesn't fit well with other Hush action figures such as Harley Quinn, or even Hush Batman, unless she's a skeleton in tights.



Stability



Although skinny as a lamb, she's stable, thanks to her thick-Jim-I'm obsessed with drawing soles-Lee. Having a torso shorter than usual, she's not top heavy. Most of her weight is in her legs, and they are so thin, it doesn't matter. Just in case Catwoman comes with a Batman Styled-action figure stand which helps a bit.



Articulation



Catwoman has nine articulations, including a ball-jointed neck and ball-joints shoulders. The other articulations are in her elbows, her hips, and knees. She should have had forearm articulations too. The articulation on the knees and are useless as they don't bend very much.



Plastic



The plastic DC Direct used on this figure is cheap. It is not resistant and can break easily. Beware and don't drop this figure on the ground or it will fall. It's very bad for DC Direct to make such cheap figures for a popular series of action figure that attracts more collectors than usual. They will expect all DCDirect action figures to be of the same bad quality and as cheap. Is DCDirect the new McFarlane in town?



Props



Catwoman comes with a removable pair of goggles and a whip. It's easy to fit the goggles on Catwoman's face. They look alright, not exceptional. As for the whip, it's a little of piece of plastic with a rope made of fabrics. The fabric is the type where threads come off easily. Although I've barely touched my Catwoman action figure, I can see all the threads decomposing. Why didn't they include the Silver Age Catwoman's whip instead?

As all Hush action figures, Catwoman comes in a stocky cardboard box that's easy to recycle. At this point, I will say that the packaging is the best part of this figure. It's fun and includes some fun artwork from the Hush comic book. On the back, there are pictures of other hush action figures from the current wave and the first one. It's really bad when the best about an action figure is the packaging.



Cost



I've never been a fan of Big Ethel and I find it very expensive. Considering there aren't any other Archie Comics action figures that I know of . . . Wait a minute. This is a review of the Hush Catwoman action figure made by DCDirect right? Oh, sorry. Ok, Catwoman feels like one of those Danger Girls figures from McFarlane, except the latter is more resistant and cheaper. Hush action figures are overpriced.



Availability



Although not a good value for collectors, the Hush Catwoman action figure is still very popular. The first DCDirect Catwoman figure doesn't match most collectors, desires, and this one is no better. DCDirect just cannot produce a Catwoman action figure with good proportions. Expect this figure to sell out after a while, because it says Jim Lee on the box. However, it's not as popular as other Hush figures.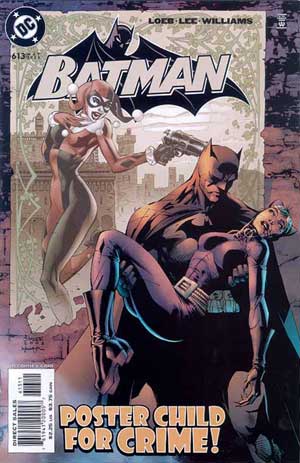 Read related reviews such as:

Batman Hush Harley Quinn
Batman Hush Nightwing
Contemporary Robin
Catwoman and Penguin
Silver Age Robin
Silver Age Batman
Silver Age Batgirl and Joker Set
Wildcat

Related Articles:
Review: Catwoman #1-6
Catwoman Tweety & Silvester #1
Catwoman #1
Catwoman #14 Review
Catwoman: Honorary Sister of Sappho
Catwoman #1
Catwoman #1 Review
Batman Arkham City Catwoman Trailer
Catwoman Lives Past 81
Ame-Comi Catwoman, Better Late than Never