Orson Scott Card on Marvel Podcast
By The Editor
Jul 10, 2008 - 13:56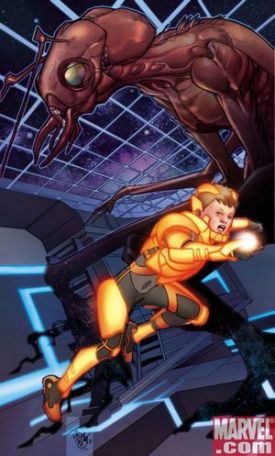 Enders Game image.
Orson Scott Card talks Ender's Game In The Mighty Marvel Podcast!
It's that time again for another Mighty Marvel Podcast. Turn up your speakers because this time fan favorite host and Senior Art Director Jeff Suter sits down with Nebula Award-winning author Orson Scott Card, creator and writer of the legendary science fiction novel Ender's Game! Here is your chance to get the inside look as Suter speaks to Card about his involvement with the new Ender's Game comic adaptation! Card also talks about how involved the comic will be in the upcoming Ender's Game film! Don't forget to be on the lookout this October as Marvel presents Ender's Game #1, hitting store shelves near you!
Go download and listen to this latest Mighty Marvel Podcast right here: http://www.marvel.com/rss/podcasts/Enders_Game_podcast.mp3
Also, be on the look out for future podcasts on Marvel.com: http://marvel.com/news/comicstories.1622.Marvel_Podcast_Central, or subscribe to the Mighty Marvel Podcast on iTunes (that way you never miss any of the action packed installments)!
For more on Ender's Game and Orson Scott Card, please visit http://www.hatrack.com
Ender's Game © 2008 Orson Scott Card. All rights reserved.
To find a comic shop near you, call 1-888-comicbook
Last Updated: Jun 26, 2018 - 9:28