Howard Chaykin on Marvel Comics Podcast
By The Editor
June 26, 2008 - 04:39
Howard Chaykin Talks Squadron Supreme In The Mighty Marvel Podcast
The latest Marvel podcast is now available for your listening pleasure as fan favorite host and Senior Art Director Jeff Suter sits down with the man bringing back the Squadron Supreme – Howard Chaykin! Here's your chance to go behind-the-scenes and get a taste of things to come as Howard Chaykin talks about the upcoming series and the after-effects Ultimate Power has had on the Supremeverse. And be on the look out for Chaykin's new ongoing Squadron Supreme to learn what happened to the Squadron Supreme and see what Ultimate Nick Fury is up to!
Go download and listen to this latest Mighty Marvel Podcast right here:
http://www.marvel.com/rss/podcasts/Supremeverse_podcast.mp3
Also, be on the look out for future podcasts on Marvel.com: http://marvel.com/news/comicstories.1622.Marvel_Podcast_Central, or subscribe to the Mighty Marvel Podcast on iTunes (that way you never miss any of the action packed installments)!

SQUADRON SUPREME #1 (MAY082320)
Written by HOWARD CHAYKIN
Penciled by MARCO TURINI
Cover by GREG LAND
Parental Advisory …$2.99
On-Sale - 7/2/2008
To find a comic shop near you, call 1-888-comicbook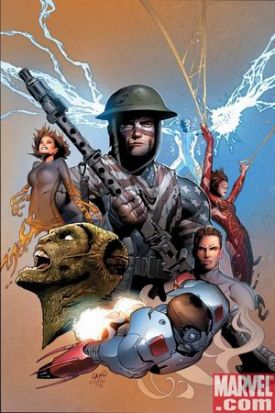 Squadron Supreme 2 #1
Last Updated: February 5, 2023 - 09:06