Comics / Manga / Yaoi Manga
Ludwig II: Volume 1 (Yaoi)
By Leroy Douresseaux
Jul 25, 2009 - 9:14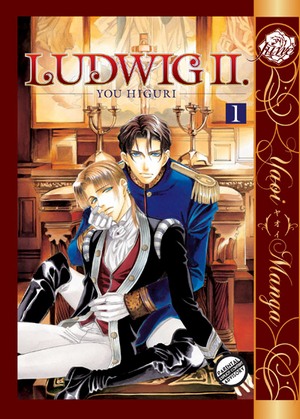 Ludwig II 1 cover is courtesy of Anime Castle Books.
Drama/Romance; Rated "M" for "Mature Audiences 18+"
Ludwig II is a yaoi historical drama from manga-ka You Higuri, the writer/artist of the Gakuen Heaven manga. The central character of this series is based upon a real world historical figure, Ludwig Friedrich Wilhelm – Ludwig II, King of Bavaria, who was also known as the "Mad King." However, Ludwig II the yaoi manga is a fictionalized account of the real Ludwig's romantic life.
The opening chapter of Ludwig II, Vol. 1 deals with the demise of the lead character, which could be a narrative killer, but isn't. Much of the narrative in this first volume, which is divided into six chapters and two sub-chapters, follows Ludwig's quest to create divine beauty that will transport him to pastoral realms of fantasy and splendor. Ludwig is a patron of the arts and music (being a benefactor of composer Richard Wagner, which he was in real life). Ludwig also builds castles and interior spaces of staggering beauty in an attempt to recreate the world of beauty that exists in his mind.
The only person who seems to capture Ludwig's attention is Richard Hornig, a shy and handsome young footman. With his slight build and long blond hair (worn in a ponytail), Hornig's looks practically correspond with Ludwig's standards of beauty. Meanwhile, Duchess Sophie, a cousin of Ludwig's, begins a romantic-like relationship with the King that she hopes will lead to marriage. However, another cousin, Count Holnstein, also plots to get closer to Ludwig, but for darker purposes.
You Higuri's use of romantic entanglements, sex, and political machinations makes for an excellent, engaging read. However, Ludwig II is a comic book, which is, of course, visual storytelling. Visually You Higuri convincingly captures the drama and conflict. More than anything else, however, she encapsulates both the essence of a character that yearns for a better world and also the fundamental nature of that dream world. Building exteriors and interiors, natural settings, paintings and murals, statues, furniture, clothing, etc: Higuri draws everything with an attention to depicting beauty.
There were times while reading this Ludwig II when I was focusing on the characters and suddenly I found my eyes drawn to something in the background of a panel that Higuri did not mean to be ignored. It was yet another thing she did to take me even deeper into this world she created, which is what a good storyteller does.
A
Last Updated: Jun 26, 2018 - 9:28