Comics / Manga / Yaoi Manga
Ludwig II.: Volume 2
By Leroy Douresseaux
Jan 19, 2010 - 14:35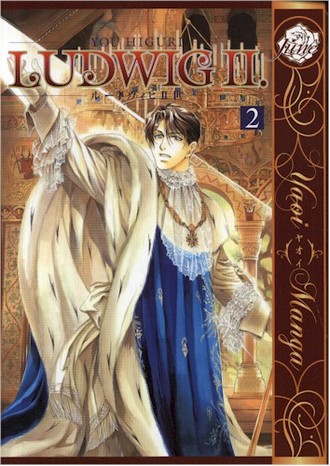 Ludwig II Volume 2 cover image
Drama/Romance; Rated "16+ Young Adult"
Ludwig II. is a yaoi historical drama from manga-ka You Higuri, the writer/artist of the Gakuen Heaven manga. Ludwig II. is a fictional account of a real world historical figure, Ludwig Friedrich Wilhelm – Ludwig II, King of Bavaria, who was also known as the "Mad King."
As Ludwig II., Vol. 2 opens, Ludwig moves deeper into his fantasy world. His mind is consumed with visitations from lost lovers and high art phantasmagoria that flicker and swirl through his every waking hour. Now, Ludwig's attention and imagination are also taken over by manic visions of seductive opera stars, in particularly the actor Albert Nieman (the very bishounen Albert Nieman). Ludwig's faithful servant (and former lover) Richard Hornig struggles to keep him from slipping into the abyss of insanity and possible suicide. Meanwhile, Ludwig's cousin, Count Holnstein, flirts with a sinister conspiracy against the King.
THE LOWDOWN: In this final volume collecting You Higuri's romantic, fictional biography of Ludwig II, King of Bavaria, stunning graphics, both in terms of composition and storytelling, are on display. Higuri's art offers depictions of costumes and clothes, sumptuous interiors, awe-inspiring castles and grand homes, lavish estates, an idyllic country side, haunting forests, and excellent figure drawings and facial art. Higuri captures a time and place with a kind of visual extravagance equal to that of a big-budget Hollywood period drama.
The narrative juxtaposes the idyllic world of Ludwig, a patron of Romantic era composers, playwrights, paints, sculptors, etc. with the coarse actuality of real world political intrigue, national rivalries, and sex. To this end, Higuri uses toning, sparkling effects, and ornate backdrops to create an atmosphere around Ludwig that suggests the enchanted fantasy world he wants to inhabit (against the world of conspiracy that he actually inhabits). Higuri even attaches a pair of white angel wings to Ludwig in one scene.
For all that Ludwig II. offers visually, it is a character study and, to a slightly less extent, a love story. Ludwig the "Mad King" is, as a character, maddening in his stubborn obsession with his fantasy world. On the other hand, Hornig's devotion to him makes this a love story of devotion and yearning that can be mesmerizing.
POSSIBLE AUDIENCE: Yaoi fans looking for period pieces, with an emphasis on the 19th century, will enjoy Ludwig II.
A-
Last Updated: Jun 26, 2018 - 9:28