Loveless: Volume 11 manga review
By Leroy Douresseaux
June 11, 2013 - 15:56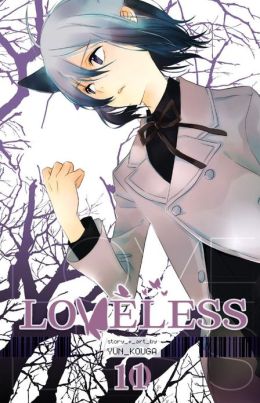 Loveless Volume 11 cover image is courtesy of barnesandnoble.com.
Rated "T" for "Teen"
Ritsuka Aoyagi, a troubled sixth-grade student, does not fit in at school and his fragmented memory alienates him from his own past. He is also grieving the loss of his older brother, Seimei, who was murdered. Ritsuka meets Soubi Agatsuma, a handsome college student who claims to have been a friend of Seimei's. Soubi introduces Ritsuka to a dark and vibrant world. Here, there are spell battles and secret names and a secret society, Septimal Moon.
As Loveless, Vol. 11 opens, Ritsuka and Soubi argue with their roommates, Youji and Natsuo Sagan, the fighter unit known as "Zero." What is the subject of their argument? It is Ritsuka's brother, Seimei, who has returned. Later, Ritsuka has a long talk with Yuiko and then, visits his therapist, Dr. Katsuko.
We learn the story of the sibling fighter unit, Faceless, as another unit, Moonless, hires them to find Seimei. Soubi pleads with Ritsuka not to leave him, and then tells Ritsuka about his past. But when it is Soubi's time to choose to leave or stay, will his choice be what Ritsuka hopes it is?
[This volume includes two bonus stories: "A Guppy's Observation Log" and "Zero-Sum's 10th Anniversary: Loveless."]
THE LOWDOWN: After reading the first volume of the Loveless 2-in-1 manga, which collects two volumes of Loveless in one graphic novel, I became interested in Loveless. Then, I received a review copy of Loveless Volume 10 from the publisher's media representative, and that volume left me a bit confused.
I not only found myself not confused by Loveless Volume 11, but I also enjoyed reading it. Ostensibly a fantasy series, this is a battle manga in which the weapons of choice are the bonds of relationship, friendships, and unions – spell battles and secret names aside. The characters argue about love and hate and loyalty and betrayal so much that Loveless is like a shojo romantic melodrama.
There's nothing wrong with personal conflict. When Loveless creator Yun Kouga makes it personal, the narrative is passionate and fiery. The spell battles, which can be violent, pale in comparison to a partner/friend/lover scorned. I'm still investigating this concept, but I find Loveless to be intriguing.
POSSIBLE AUDIENCE: Fans of Yun Kouga will want to try Loveless.
Rating: B+ /10
Last Updated: August 31, 2023 - 08:12