Loveless: Volume 10 manga review
By Leroy Douresseaux
January 9, 2013 - 19:28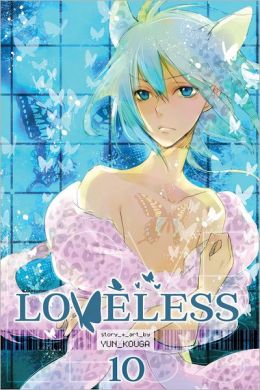 Loveless Volume 10 cover image is courtesy of barnesandnoble.com.
Rated "T" for "Teen"
Ritsuka Aoyagi is a troubled, preteen, sixth grade student. He does not fit in at school and his fragmented memory alienates him from his own past. He is also grieving the loss of his older brother, Seimei, who was murdered. Ritsuka meets Soubi Agatsuma, a handsome college student who claims to have been a friend of Seimei's. Soubi introduces Ritsuka to a dark, vibrant, and violent world of spell battles and secret names and a secret society, Septimal Moon.
As Loveless, Vol. 10 opens, Kio visits his daughter, Shikiko. He chafes under the position in which he now finds himself in relationship to his daughter.
Ritsuka's teacher, Hitomi Shinonome insists on getting involved in her students' lives despite objections from colleagues. Miss Nigisa sends Natsuo and Youji, the rival fighter unit, "Zero," to watch over Ritsuka. That means attending school with Ritsuka and even being in the same class with him. Also, Mikado Gomon and Tokino Fujiwara, the fighter unit known as "Moonless," enter the story.
[This volume includes two bonus stories: "Loveless – Hanabi Episode – " and "Mobile Suit Gundam 00 Movie Release / Loveless Crossover: Sometime, Someplace on a Street Corner."]
THE LOWDOWN: After reading the first volume of the Loveless 2-in-1 manga, which collects two volumes of Loveless in one graphic novel, I found it interesting enough to follow the series. After reading Loveless Volume 10, I'm still interested, but a bit confused.
Apparently, Loveless creator, Yun Kouga does not consider this series to be boys' love manga. However, some of Vol. 10 clearly depicts romantic interest between young males. Ritsuka alternates between being a typical red-bloodied boy and a girlish youth lost in thoughts of his older love interest. If I understand correctly, his brother, Seimei, is not dead. Boys' love, spell fighting, and resurrection: well, Loveless is a lot of things, although that is what keeps me from really loving it.
POSSIBLE AUDIENCE: Fans of Yun Kouga will want to try Loveless.
Rating: B /10
Last Updated: August 31, 2023 - 08:12