Comics / Manga / Yaoi Manga
Love Control 2 (Yaoi)
By Leroy Douresseaux
Aug 18, 2009 - 11:26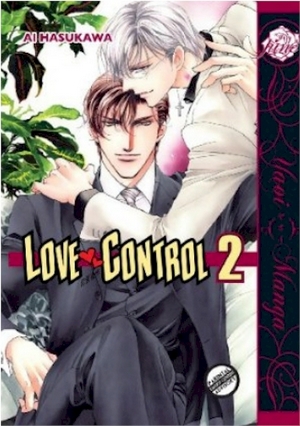 Love Control 2 cover image is courtesy of Anime Castle Books.
Drama/Romance; Rated "18+ Mature"
As a talented interior designer for Sugimoto Life Design,
Kei Yamashiro
is very much in demand, and he takes great pride in his work.
Takashi Okumura
, owner of the restaurant chain, the Jiri Group, hired Yamashiro to redesign their Italian restaurant. A powerful business man with a powerful ego, Okumura romanced Yamashiro, but Okumura's ego clashed with Yamashiro's pride.
Love Control 2
opens to find that Okumura and Yamashiro's steamy-hot affair is still going strong, but neither man will confess his deepest, most intimate feelings to the other. That pride and stubbornness that prevents them from being honest about their feelings allows a rakish young bartender at Okumura's
Nebula Sinus-Jiri
bar to come between them. But which of the two men is really the focus on
Nagi Sasatani
's attentions? And what will Sasatani do when another man named Kei – a meek young salesman named
Kei Ichinose
– piques his interest?
The element that made the first volume of
Love Control
a good read – the strong-willed leads Yamashiro and Okumura – is the centerpiece of much of Love Control 2. However, "Love Control III," the concluding chapter of the Yamashiro and Okumura arc of
Love Control
, feels extraneous – like the chapter readers really didn't need. It's nice, but is mostly drawn out melodrama. Since much of this chapter takes place at night and in indoor settings, the art by creator
Ai Hasukawa
is smothered in toning, covering everything like a Film-Noir mist.
"Love Control IV" (of course, you knew that Yamashiro and Okumura would stay together), the romantic drama focuses on the romance of Nagi Sasatani and Kei Ichinose, with the former playing hard-to-get and the latter bumbling like an innocent school boy awkwardly attempting to disengaging his girlfriend's bra apparatus. It's good, but like just about everything in
Love Control 2
, it lacks heat.
B
Support this writer on Patreon
Last Updated: Jun 26, 2018 - 9:28