Comics / Manga / Yaoi Manga
Kurashina Sensei's Passion: Volume 2 (Yaoi)
By Leroy Douresseaux
April 17, 2010 - 07:37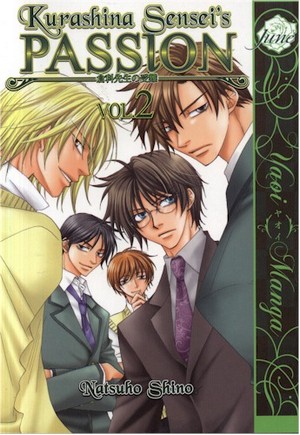 Kurashina Sensei's Passion Volume 2 cover image is courtesy of Anime Castle Books.
Drama/Romance; Rated "16+ Young Adult"
Kurashina Sensei's Passion is a boys' love manga from creator Natsuho Shino (Stop Bullying Me!). It focuses on 24-year-old Reiji Kurashina, a former student who returns to his old high school (Shoei Academy) as a teacher, and the scheming boys of the Events Organization Committee, including one who is romantically interested in him.
Kurashina Sensei's Passion, Vol. 2 opens with Kurashina-sensei reeling from the passionate kiss he received from Takashi Asano. The stoic and cool (and also tall and handsome) chairman of the Events Organization Committee, Asano may be in love with his teacher, but the kiss is as far as he is willing to go at this point – much to Kurashina's dismay. Kurashina really doesn't have much time to ruminate on the kiss, though, because the newest drama has already started.
E.O.C. vice-chairman, Mahiro Sakamoto is feuding over budgetary matters with Megumu Inoue, the treasurer of the Student Council. E.O.C. is actually a sub-organization of the Student Council, so the latter controls the money. In a bid for the E.O.C. to have their own separate budget, Mahiro challenges Megumu and the rest of the Student Council to a contest. Not only will the winners have the final say over the budget, but the victors will also gain possession of Kurashina-sensei!
THE LOWDOWN: Because manga-ka Natsuho Shino composes Kurashina Sensei's Passion as a comic high school romp makes it a fun read for anyone. This manga exists somewhere between white-hot passion and puppy love. Shino often makes it seem as if a rowdy sex scene awaits the readers with just a turn to the next page, but what's better than sex when it comes to reading boys' love? That would be good characters, and Kurashina Sensei's Passion is filled with adorable, engaging characters that make every page a delight to read.
As a bonus, readers get to see the budding romance between Student Council president Yukihiko Satomura and E.O.C. mega-uke, Haruka Kimura (freshman), in a date story that is so cute and sweet it should come with a warning label for diabetics. Plus, another bonus tale goes back to the early days of Asano and Kouki Akiyama's friendship.
POSSIBLE AUDIENCE: Readers looking for boys' love on the cute and playful side will love Kurashina Sensei's Passion.
A-
Last Updated: August 31, 2023 - 08:12