Comics / Manga / Yaoi Manga
Kurashina Sensei's Passion: Volume 1 (Yaoi)
By Leroy Douresseaux
Dec 4, 2009 - 11:33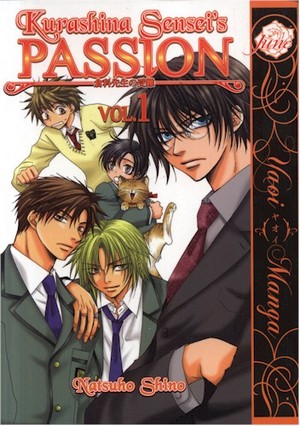 Kurashina Sensei's Passion Volume 1 cover image
Drama/Romance; Rated "16+ Young Adult"
In the boys' love series, Kurashina Sensei's Passion, from creator Natsuho Shino (Stop Bullying Me!), a former student returns to his old high school as a teacher. What he finds is a group of scheming boys who may make him regret returning.
Kurashina Sensei's Passion, Vol. 1 opens as 24-year old Reiji Kurashina, with his cat, Matsumoto, in tow, arrives at his alma mater, Shoei Academy. There, Kurashina will work in the Social Studies Department as the new Japanese history teacher. Kurashina never thought he'd be back, and certainly not as a teacher. Kurashina hopes to make a splash with his new students, but everything starts off wrong when Matsumoto vomits on Takashi Asano, a 2nd year student who immediately captures Kurashina's attention.
Asano is also the student chairman of the Events Organization Committee, and before he knows it, Kurashina gets tricked into becoming "the instructor in charge of the committee." This unwanted position of authority is actually one that seems to come with very little authority because the other members of the committee: Kouki Akyama, Mahiru Sakamoto, Dai Murosawa, and Haruka Kimura treat him like one of the boys. Kurashina is determined to teach these rambunctious and conniving boys a thing or two, so why is he so rattled by the mere presence of the stoic and cool Takashi Asano?
THE LOWDOWN: Readers may recognize the general spry, playful tone of Kurashina Sensei's Passion. This boys' love, high school comedy is from Natsuho Shino, the creator of Stop Bullying Me!, one of my all-time favorite manga. Passion is built around silly comic situations that usually begin with or involve some plot by the supporting characters, either the five E.O.C. boys or Yusuke "Yu" Minorikawa, the cross-dressing school nurse, to get Kurashina to do something he doesn't want to do. That includes things like going on a hike or participating in a fashion show. Passion makes for fun, light reading, but it is more boys teasing than boys' love.
However, the success of this manga is not in the situations, but in the characters and their camaraderie. While this first volume offers a few glimpses of the beginnings of Kurashina and Asano's romance, the focus is on situations in which the boys rattle Kurashina and on the characters' eccentricities and how those clash. If Shino can make the situations as engaging as her characters are, Kurashina Sensei's Passion will be even better.
POSSIBLE AUDIENCE: Readers looking for boys' love that is more cute and playful than it is hot and passionate will like Kurashina Sensei's Passion.
B+
Last Updated: Jun 26, 2018 - 9:28