Kaze Hikaru: Volume 20 manga review
By Leroy Douresseaux
August 11, 2012 - 15:07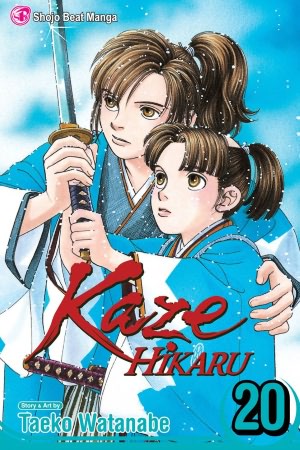 Kaze Hikaru Volume 20 cover image is courtesy of barnesandnoble.com.
Rated "T+" for "Older Teen"
A new era is dawning in the Japan of the 1860s, a time of violent social upheaval. Samurai from all walks of life travel to Kyoto in hopes of joining the Shinsengumi, a band of warriors dedicated to the Shogunate system. Tominaga Sei disguises herself as a boy to avenge her Bakufu bushi (samurai) father and brothers. She takes the name "Kamiya Seizaburo" and joins the Shinsengumi. Aspiring to be a true bushi, Kamiya trains under Okita Soji, the young man she loves and the only person in the Shinsengumi who knows Kamiya's true identity.
As Kaze Hikaru, Vol. 20 opens, there is practically a riot going on in the Shinsengumi barracks. The men have discovered that Kamiya and Okita met a photographer in Osaka who took a picture of Okita sitting next to Kamiya. And Kamiya is dressed as a young woman! Kamiya and Okita are determined that no one see the photograph lest someone discover just how convincing Kamiya is as a woman.
Next, Hijikata Toshizo, vice captain of the Shinsengumi, sends Kamiya on a spy mission to ascertain the whereabouts of the assassin and enemy leader, Sakamoto Ryoma. Kamiya's disguise will take advantage of "his" feminine features. He will dress as a woman!
THE LOWDOWN: One of the things that I really like about the Kaze Hikaru manga is the series' beautiful art. It has been three years since I last read a volume of the Kaze Hikaru (Vol. 14), and the art is as pretty as ever. Some of the incidents in this volume will have future ramifications, so Vol. 20 is important in the long run. Kaze Hikaru has a humorous that often mingles with the drama, especially here. It is a little too much for my taste, but I cannot get enough of the beautiful, distinctive faces of which creator Taeko Watanabe populates this very human drama.
POSSIBLE AUDIENCE: Fans of historical romance and Japanese historical fiction will like Kaze Hikaru.
Rating: B+ /10
Last Updated: January 24, 2022 - 11:00