Kaze Hikaru: Volume 11
By Leroy Douresseaux
Oct 29, 2008 - 10:44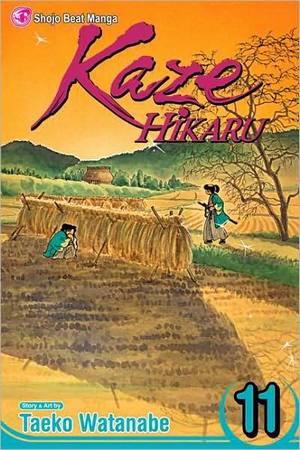 The above image of the cover for Kaze Hikaru 11 is courtesy of barnesandnoble.com.
Rated "T+" for "Older Teen"
Japan in the 1860s, the end of the Bakufu era, is a time of tremendous social upheaval. Tominaga Sei, the daughter of a samurai, disguises herself as a boy to avenge her Bakufu bushi (samurai) father and brothers. She takes the name Kamiya Seizaburo and joins the Shinsengumi, a band of warriors formed to protect the Shogun. Aspiring to be a true bushi, she trains under Okita Soji, the young man she loves and the only person in the Shinsengumi who knows Kamiya's true identity.
In Kaze Hikaru, Vol. 11, Ito Kashitaro, the famous swordsman who recently joined the Shinsengumi, is already bringing conflict to the group. He asks Yamanami Keisuke, a vice captain of the Shinsengumi, for an act of intercession on behalf of some of Ito's friends. This act of mercy, which must g through Kondo Isami, captain of the Shinsengumi, causes on a conflict in Yamanami's allegiances and has dire consequences.
THE LOWDOWN: A historical romance and a historical drama, Kaze Hikaru is one of the most heartfelt comic book narratives I've ever read. Superbly written and beautifully drawn by Taeko Watanabe, Kaze Hikaru is a story of a girl whose simple quest for revenge and love become caught up in the larger events of the tumultuous times in which she lives. Her needs, desires, and goals always seem to move offstage in favor of these larger events. It seems as if the fate of her nation, its way of life, and the changes coming to Japan will affect whatever Tominaga/Kamiya gets in the end.
POSSIBLE AUDIENCE: If fans of historical dramas and of historical fiction/romance could come together, they would unite for Kaze Hikaru.
A
Last Updated: Jun 26, 2018 - 9:28