Comics / Manga / Yaoi Manga
Sakurako Hanafubuki's Junior Escort (Yaoi)
By Leroy Douresseaux
Dec 12, 2008 - 14:06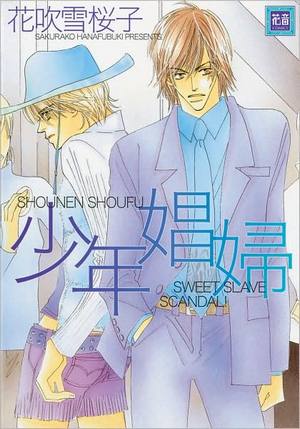 The above cover image from the Japanese edition of Junior Escort also appears on the cover of June Manga's edition, but with new cover copy.
Rated "M" for "Mature Audiences 18+"
In Junior Escort, her collection of yaoi manga short stories, manga-ka Sakurako Hanafubuki doesn't humor delicate sensibilities. In these six stories (five storylines), young men discover that finding one's soul mate often means dealing with shocking scandal, secret indiscretions, and bitter lies. That's to say nothing of finding a lover who just wants to get laid and doesn't care for romance.
In the main storyline (encompassing two stories, "Junior Escort" and "Paparazzi Channel"), Kyo Ayukawa is an up-and-coming actor/model who is apparently willing to do anything to please his employers. Being a "junior," he accedes to his boss' request that he allow Koji Mizuhara, the hottest male model/actor/celebrity in all of Japan, to use his body for pleasure. As Mizuhara is his agency's "senior," Ayukawa is willing to have sex with him, almost as an act of submission. Another reason that Ayukawa is so willing to engage in this "special transaction" is that Mizuhara is his idol, but will his idol ever show him so authentic romantic love?
Salacious scenarios often make for spicy yaoi manga, the subset of boys' love manga that features explicit depictions of sex between male characters. "Junior Escort," with its boyish lead acting as a prostitute for his more masculine colleague, is a nifty spin on the seme/uke dynamic, but "Junior Escort," might seem like a pedestrian romance next to its follow-up, "Paparazzi Channel." In this second story, we see a much darker side of one of the characters, which is startling, but quite nice.
The rest of these stories, while entertaining, range from creepy to troubling, especially the almost lolicon-like "Angelic Seduction." "Behind Closed the Doors," is the story of a male prostitute (who was molested as a child) who takes the virginity of another young man who promptly falls in love with him. Not only is the ex-virgin proud to publicly proclaim his affair with a prostitute, but the prostitute also has issues with self-hatred and cutting. Now, that's spicy.
Readers who are looking for some extra dark chocolate in their yaoi candy mix will find plenty in Junior Escort. It refuses to be ordinary.
B
Last Updated: Jun 26, 2018 - 9:28