Jay Stephens Unveils The Secret Saturdays
By Leroy Douresseaux
September 29, 2008 - 10:30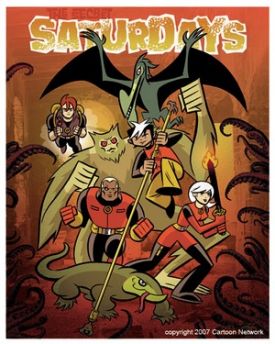 Oops, this is not a promotional image from Cartoon Network for the series. Rather it is early development art by Jay Stephens.
On Friday, October 3, 2008, Cartoon Network will present the hour-long premiere of what looks to be one of the more unusual animated series created by North Americans in recent memory. "The Secret Saturdays" is the brainchild of cartoonist and animation veteran, Jay Stephens.
Stephens has been producing comic books since the early 1990's, and his best known work includes The Land of Nod and Jetcat Clubhouse. Stephens was the creator of the Emmy-winning animated series, Tutenstein (3 seasons; 2003-2007), which was based upon one of his comic book characters. For the better part of two decades, Stephens' cartoons and comix have revealed a sparkling imagination and youthful exuberance that an adult normally has to bargain with Satan to regain. Stephens answered a few questions for us in this Bin Q&A:
CBB: In a sort of compact way, how would you describe "The Secret Saturdays?"
STEPHENS: Doc, Drew and their son Zak Saturday are a family of cryptozoologists-- part of a larger group of Secret Scientists from various odd disciplines who protect mankind against all the dangerously mysterious things in the world. Their area of expertise, cryptids, has the Saturdays exploring myths, legends, and recent sightings of unknown creatures from across the globe, leading them into conflict with villains like the insane showman V.V. Argost, whose true ambitions are unknown to the legions of fans of his popular television show, Weirdworld. Even cooler, the Saturdays have three bona fide cryptids living with them... a mutated monitor lizard named Komodo, a 'living fossil' pterosaur called Zon, and the big lovable Fiskerton Phantom (nicknamed Fisk), who has become something of a gigantic kid brother to Zak.
CBB: When I first contacted you I mentioned that "The Secret Saturdays" appealed to the Charles Addams/Tim Burton fanatic in me, but what I've seen of the show also reminds me of all those weird sci-fi/action cartoon series that Hanna-Barbera produced in the late 1960's and early 1970's. Did old Hanna-Barbera influence you when you were building this concept or was it something else?
STEPHENS: I am a connoisseur of all things Monster, as readers of my blog Monsterama can attest, and all of that junk goes into what I do. But the specific inspiration for the Secret Saturdays was, indeed, '60's Hanna-Barbera action shows like Jonny Quest, The Herculoids, and Scooby-Doo. I've been a longtime fan of Alex Toth and Doug Wildey, and I thought it would be fun to try and update that vibe for a new generation. A "monster-of-the-week" show with a combination of old-school and modern FX, stronger scripts (including continuity), and driven by the fully-fleshed characters instead of by the plot. I think we pulled it off.
CBB: What about "cryptids" fascinates you? Is the creation of this TV series a chance for you to share that interest?
STEPHENS: Absolutely! Cryptozoology hooked me right away as a kid. I was an avid reader, and found the idea of monstrous creatures like Yeti, Sasquatch, and Nessie... beasts that might actually exist... totally irresistible. I'm betting kids today will feel the same way.
CBB: After Cartoon Network bought the concept, how much input did you have in refining it into the final product?
STEPHENS: I was lucky to have been heavily involved in all levels of the creation of the show. The success or failure of the Secret Saturdays can mostly be pinned on my vision of the series (although I'm sure I could find someone to blame if it came to that!). I developed it alone with CN and my Producer pal Fred Schaeffer for the first year or so, until it was ready to bring in the lovely and talented Brandon Sawyer as Story Editor and writer of the final series bible and pilot. And the great team we assembled from that point on, starting with Director/Producer Scott Jeralds, kept the excitement high, and pushed my vision forward. I had a blast as Executive Producer, playing around with the scripts, boards, character design, background design, voice casting, music, toy line, promotion, and everything else. Awesome experience. Fred, Brandon, and myself are currently working on the beginnings of a second batch of scripts for another season...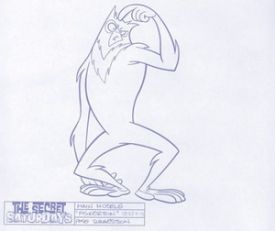 A model sheet of the character Fiskerton Phantom a.k.a. Fisk.
CBB: Whenever I view your work, I see an imagination that creates characters and worlds that are playful, inventive, and eclectic, maybe even weird. What are the things in your life and in your artistic influences that inspired this?
STEPHENS: Thank you. I'm a little nuts, which always helps creatively. And my kids keep me in the loop on what sucks or doesn't suck. I have a voracious, probably slightly unhealthy, appetite for all cartooning. And that multitude of influences bubbles up in the strangest ways sometimes.
CBB: I'm assuming that "The Secret Saturdays" will have a life in comic books via the DC comic book series, Cartoon Network Action Pack. If this is so, will you play a part in translating "TSS" into comics?
STEPHENS: The first two Secret Saturdays stories have already appeared in Cartoon Network Action Pack #26 and #29 as prequels to the hour-long pilot. More are in the works as we speak. I don't have enough time to be as involved as I'd like, mostly focusing on doing the covers, but the comics are in good hands, using writers and board artists who worked on the show whenever possible. The first batch of stories are based on plots of mine, and the first one was scripted and inked by me (pencils by director Jeralds!). I wanted to make sure that everything fit into continuity... especially the prequel stuff. Believe it or not, one thing I've been doing is colouring the comics, because our palette on the series is so rich and specific. I felt I needed to set the bar high right out of the gate. I'm a bit of a colour geek.
CBB: Is there news of any upcoming projects that you want to share with readers?
STEPHENS: I've been so busy with the Saturdays that I haven't had time for much else. I'm currently developing a daily newspaper strip with my pal Bob Weber Jr., but I don't want to spill too many beans about that one just yet.
The Bin would like to offer its appreciation to Jay Stephens for answering these questions. Please visit Jay's wonderful website at http://jaystephens.com/, which includes a checklist and purchasing links for books reprinting Jay's work, and his highly-entertaining blog, Monsterama, at http://monsterama.blogspot.com/.
The Secret Saturdays website is http://www.cartoonnetwork.com/tv_shows/tss/
Last Updated: September 6, 2021 - 08:15