Comics / Comic Reviews / DC Comics
Cartoon Network Action Pack #29 with The Secret Saturdays
By Leroy Douresseaux
Oct 9, 2008 - 11:25
Cartoon Network Action Pack is an anthology series for young readers from Johnny DC, an imprint of DC Comics that focuses on kids' comics. Cartoon Network Action Pack takes action-based animated series from cable's, Cartoon Network, and adapts them into comic book short stories, with stories and gags running from one to eight pages.
"The Secret Saturdays" returns to Cartoon Network Action Pack #29 in their comic book form (after their comic book debut in issue 26). "Crying Wolf" is a story written by Brandon Sawyer, the story editor and a writer for TSS, and drawn by Mike Manley, a storyboard artist on various animated TV shows (and possibly for TSS). Stranded in the remote Russian outback, the world's foremost cryptozoologists, Doc and Drew Saturday, and their son Zak take on werewolf legends and biker gangs.
Also, Samurai Jack expresses outright disgust at his robot twin in "Samurai Mack," but does a hero need a real heart or simply a heart that's real? KND, the Kids Next Door, take on their rivals, DCFDTL, Delightful Children from Down the Lane, in three one-page gags drawn by Stephanie Buscema. Then, the jokes on KND in three one-age gags drawn by Scott Shaw!
The Secret Saturday's second comic book appearance is notable because of Mike Manley's energetic storytelling. His angular, cartoony drawing style gives the compositions in each panel an edgy, chaotic feel. The art makes the panels feel like they're barely containing the constant motion inside each one; it's as if the characters are in such a state of action that they might break out. The KND gags are actually quite nice.
B+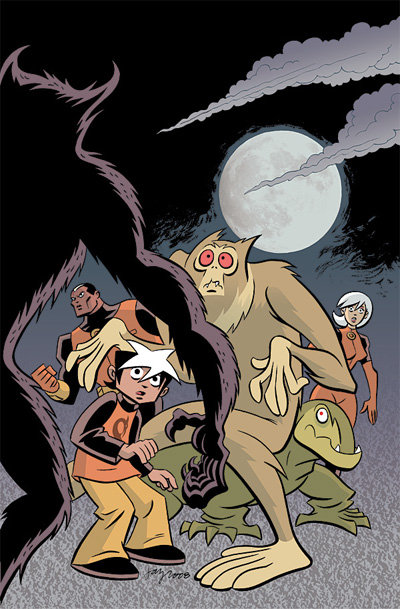 Jay Stephens cover image for Cartoon Network Action Pack #29.
Last Updated: Jun 26, 2018 - 9:28