Comics / Comic Reviews / DC Comics
Hellblazer #254
By Leroy Douresseaux
May 10, 2009 - 07:31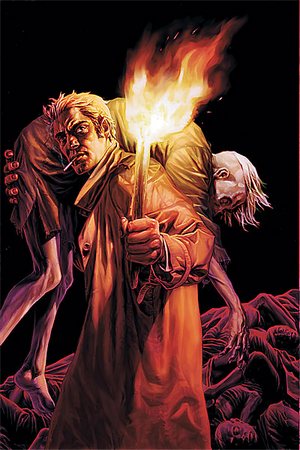 Lee Bermejo's cover art for Hellblazer #254
"Regeneration" Part 1 of 2: Plague Doctor
Writer Peter Milligan begins his second Hellblazer storyline by un-sticking title character John Constantine's mind in time. In Hellblazer #254, Constantine has started having visions of London in the year 1665. The Great Plague rages, and authorities are not letting the poor, like the family of the blacksmith Fernby, leave the city. A plague doctor, decked out in his ghastly gas mask in the shape of bird's beak, stalks the city streets, with the power to condemn and confine anyone he believes is sick with the plague.
Back in the present, Emil, an author, political activist, and acquaintance of Constantine's, seeks a favor from the occult detective and magician. Because he's such a lucky fellow, Constantine finds that Emil's request seems to tie into his latest crisis and his visions of plague-fouled London.
I don't know how many people read Hellblazer, but it's probably not nearly as many as it could be. Readers probably take this series for granted. The number of titles that have debuted since Hellblazer #1 was published, gained a status as "hot," and burnt out are too numerous to count. Meanwhile, month after month, whoever was writing Hellblazer offered always imaginative, sometimes controversial, and often shocking tales of the occult.
The socio-political angle Milligan has inserted early in his run is delightfully surprising and enjoyable. Milligan has a lot to say about the plight of the poor, disenfranchised, and powerless (for example, how Olympic host cities displace people to build venues for the games, including London for the 2012 games). The art by Goran Sudzuka (pencils), Rodney Ramos (inks), and Jamie Grant (colors) is pitch-perfect for the 17th century-set scenes, giving this fever-imbued story a certain solidness.
[This issue also contains an eight-page preview of the upcoming DC Comics/Vertigo series, The Unwritten.]
A-
Last Updated: September 6, 2021 - 08:15