Hellblazer #245
By Leroy Douresseaux
February 22, 2009 - 21:30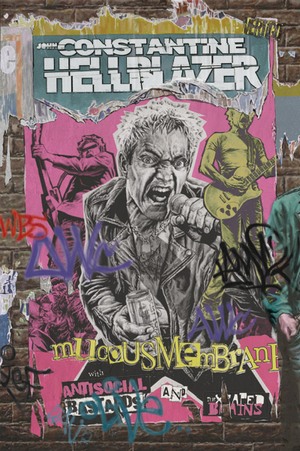 Hellblazer 245 cover image
"Newcastle Calling" Part 1 of 2
Corey, Dana, Travis, Randy, and Ivan are five Americans who have traveled to England to film a documentary about an obscure, defunct 1970s era punk band called Mucous Membrane. By van, the quintet have arrived in Newcastle and found themselves at the fenced-out, condemned property where the ruins of the Casa Nova Club slumber.
The Casa Nova Club was the site of Mucous Membrane's final appearance, an occasion that remains forever traumatic for the band's lead singer, John Constantine. John Constantine, Newcastle, and five stupid, young people mean trouble, especially because something dark has awakened.
THE LOWDOWN: In the John Constantine, Hellblazer mythos, Newcastle, the disastrous and formative event in Constantine's life, is the gift that keeps on giving – at least for writers scripting an issue or two or three of Hellblazer. I like what Jason Aaron (Scalped, DC Comics/Vertigo) does with his Hellblazer story. This comic book has never really been just dark fantasy. It's also been just a bit more than just another horror comic book, especially since there have been so many moments of quality character drama. Ultimately, Hellblazer's trademark has been nasty, disturbing tales of horror – thanks to the title's beginnings under writer Jamie Delano. Sometimes, you have to think that the writers have gone too far in what they've written and that the artists should have had the dignity not to draw such things, but then, you also realize how good all that bad is.
Aaron doesn't go away from that foulness and that edginess in Hellblazer #245. In fact, he adds to this title's nastiness by telling a scary story with razor-sharp teeth; even a nip might give you rabies. In fact, if "Newcastle Calling" were turned into a movie, it would be NC-17 if some of the revolting visuals weren't removed. Here, revolting is a good thing. Artist Sean Murphy (Crush, Dark Horse Comics), except for that dreadful last page, gives the story this cool cinematic feel that's like a slasher movie – just right for a tale of stupid young people.
POSSIBLE AUDIENCE: For fans of horror comic books.
A-
Last Updated: March 10, 2022 - 22:00