Hellblazer #243
By Leroy Douresseaux
October 15, 2008 - 07:35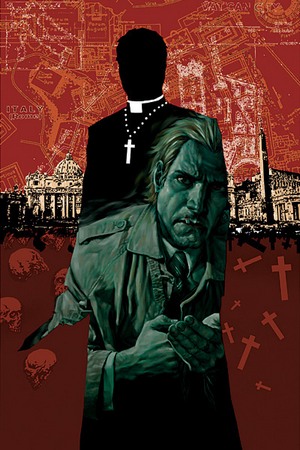 Image of Lee Bermejo's cover for Hellblazer 243
"The Mortification of the Flesh" Part 1
"In the room, the temptation of the flesh are drawn out and – acted upon, that we may come to better understand our sinful natures." – Father Grimaldi.
Within the confines of the Vatican, in the Apostolic Palace, something terrible waits behind a large door, and Father Luigi Grimaldi knows what it is. It's Father Grimaldi's fault actually. What is the Secret Sacrament of Corporeal Confession? It seems that John Constantine is the one who'll have to answer questions and clean up this mess, and things may only get messier.
[This issue contains an eight-page preview of Young Liars.]
THE LOWDOWN: Writer Andy Diggle's recuperation of John Constantine into a street-wise mage who can go anywhere, anytime and his return of Hellblazer to the edgy, urban horror thriller that it was when the series began in the late 1980s are much welcomed. That Diggle has made both the title character and the title seem so fresh is simply amazing, and Hellblazer #243 typifies that. This is bracing, dark, dark fantasy, and after reading it, one might feel that the cover price ($2.99) is a bargain.
POSSIBLE AUDIENCE: The flagship of Vertigo horror comic books, it's a must read.
A-
Last Updated: March 10, 2022 - 22:00