Hellblazer #241
By Leroy Douresseaux
August 29, 2008 - 20:35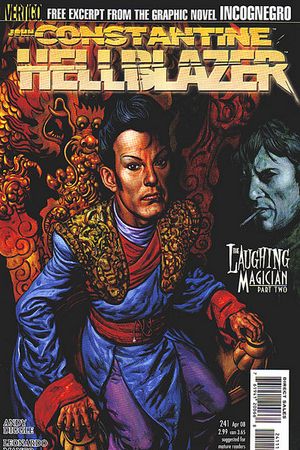 Hellblazer #241 cover by Glenn Fabry
"The Laughing Magician" Part 2 of 3
The bloodthirsty war-mage Mako is still searching for John Constantine. Some unknown person, however, has cast a cloaking spell on John, keeping his identity hidden from Mako. So Mako carves a bloody swath through London's occult underworld looking for anyone who can tell him how to find everyone's favorite hellraiser with an attitude.
If there is going to be another Constantine movie, would current Hellblazer writer, Andy Diggle, get to write at least a draft of the script? I wish he would get a shot at something like that because Diggle has made Hellblazer so damn much fun to read. Granted that this long-running series has had some excellent writers script the series (Jamie Delano, Garth Ennis, Warren Ellis, etc.), but John Constantine hasn't been this much fun since Alan Moore created him in the mid-1980's as a pivotal Swamp Thing supporting character.
Hellblazer #241 is a case in point because Diggle has a knack for bring the fullness of Constantine's character and environment into play each and every issue without having to awkwardly recap the previous issue. Anyone can pick up a stray Diggle Hellblazer and find that the scribe immediately hips the reader to who and what the man is about. Diggle is also on automatic pilot when it comes to establishing Hellblazer's urban magic, Film-Noirish, occult hellish setting and atmosphere.
Of course, it helps that he has the ass-kicking artist Leonardo Manco as his partner-in-devilish crime. Manco uses pools of space-filling liquid black, a feverish spattering of ink spots, and unruly lines that race across the page like frantic Bebe's kids to create a signature visual tone for Hellblazer that fits the character to a tee.
Read this comic book.
A+
Last Updated: March 10, 2022 - 22:00