Hellblazer #240
By Leroy Douresseaux
July 7, 2008 - 08:31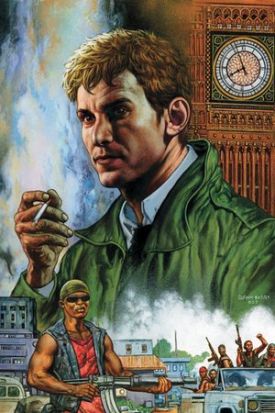 Glenn Fabry's art for the cover to Hellblazer #240
In Hellblazer #240 ("The Laughing Magician," Part One), John Constantine makes a deal with a corrupt racist cop (named Watford), bargains with an Asian snakehead gang leader (named Song), and communes with a remote viewer (named Fengis, he can see into an enchanted object). It takes all that for John to get a peak at the last message left to him by Sudanese tribal shaman (who was killed last issue).
It's a bad news/worse news situation for Constantine. The bad news is that Constantine is the "Laughing Magician." The worse news is that someone who is a "magiphage," a mage who eats other magicians, is coming to England to dine on Constantine's liver with some fava beans and a nice Chianti.
Current Hellblazer writer, Andy Diggle perfectly captures that Film-Noir, street detective, urban magic quality that has defined this two-decade old series. Diggle has the perfect partner in the expert artist, Leonardo Manco who has an exquisite sense of art direction and set design, not to mention his killer double-page spreads. Diggle and Manco make Hellblazer one of the most rewarding reading experiences on the current American comic book market.
A
Last Updated: March 10, 2022 - 22:00