Hellblazer #239
By Leroy Douresseaux
June 8, 2008 - 14:55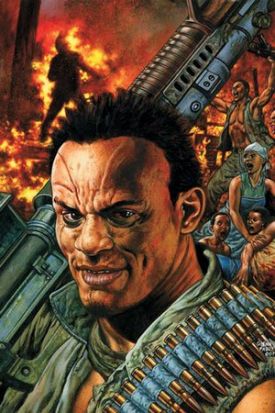 Glenn Fabry's striking painting for Hellblazer #239 sans logos and copy.
In the southern badlands of the Sudan, Mako, a Janjaweed leader, tortures an ancient village shaman for the enchanted information he holds inside his withered body. Meanwhile, a local doctor, who now actually holds those secrets, races across continents in search of "The Laughing Magician."
THE LOWDOWN: It has been easy to take Hellblazer for granted, but over a 20 year period, has any other comic book series had the consistently excellent lineup of writers this one has had? Starting with Jamie Delano, the Hellblazer scribes have delved into the real trials and tribulations, horrors and evil, and even the hopes of mankind to create splendid tales of dark fantasy that resonate or rather reach inside the reader precisely because they somehow reflect our reality.
Andy Diggle continues this tradition, and as intrigued as I am by the latest supernatural case of title character John Constantine, Diggle got me with a horror story solidly based in the dreadfulness of a real life situation (genocide in the Sudan). Like many Hellblazer writers, Diggle works with a superb artist, in this case Leonardo Manco. His compositions create a rich, shadow-infused world that has the feel of both Film-Noir and documentary filmmaking, but also capture the sense of an eerie and mystical world. The contents of the panels are shaped and formed by Manco's inks, which are both chaotic and precise. Add in Lee Loughridge's gorgeous colors and Hellblazer is almost horror comics as high art.
POSSIBLE AUDIENCE: Anyone who reads comics.
A
Last Updated: September 6, 2021 - 08:15