Hellblazer #253
By Leroy Douresseaux
May 3, 2009 - 08:55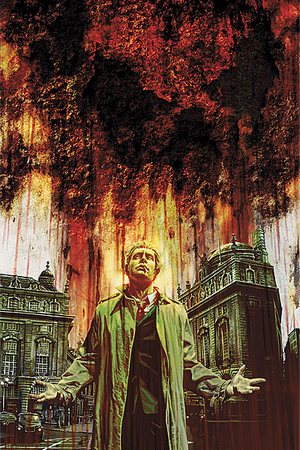 Cover art for Hellblazer #253.
"Scab" Part 3 of 3, "Infectious"
Writer Peter Milligan closes out his first storyline as the new writer for Hellblazer, a three-issue story arc that finds the title character John Constantine being haunted by his past. If he is anything, Constantine is a character living in the present, with an eye on the future, but always fighting the ghosts of his past.
In Hellblazer #253, Constantine returns to his home base of Liverpool where he tries to tie up loose ends from a dockworkers' strike in which he inserted himself, via his magic – for a price, of course. It seems as if, Mal Brady, who looked like the bad guy may be justified in his actions (to an extent), so who is the bad guy? And John says good-bye while looking forward to a happy future – at least, a piece of one.
The closing of the Scab storyline might seem like going out with a whimper rather than with a "Bang!," but in a quiet way, Milligan seems to reminding anyone who has forgotten (or informing new readers) what a bastard John Constantine was, is, and will be. It's a good way for Milligan to move onto the rest of his dirty work on this title. All in all, "Scab" is a good indicator of what's to come.
A-
Last Updated: March 10, 2022 - 22:00