Hayate the Combat Butler: Volume 26 manga review
By Leroy Douresseaux
September 18, 2015 - 19:17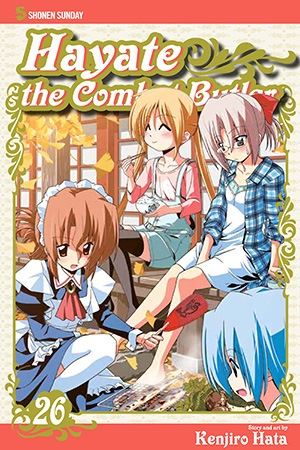 Hayate the Combat Butler Volume 26 cover image
Rated "T+" for "Older Teen"
Since he was 9-years-old,
Hayate Ayasaki
had been working to pay off his degenerate parents' gambling debts. Those same parents sold their son's organs to the yakuza to cover those debts, and then, disappeared. Hayate worked various part-time jobs to pay off the debts. Then, fate brought Hayate to teenage heiress,
Nagi Sanzenin
a/k/a "
Ojô-sama
." She is the frequent target of kidnapping plots and of various schemes by people trying to get her money. Hayate becomes Ojô-sama's butler, zealously protecting her, while she falls in love with him.
As
Hayate the Combat Butler

, Vol. 26
opens, Yukiji says that she wants a man who can make her heart go "
B-DMP!
" Is
Kaoru
the man who can bring the noise?
A new era begins. Nagi lost her fortune and is forced to leave the palatial estate that has been her home. With what is left her of money, Hayate has bought Nagi a new home,
Murasaki Mansion
, which turns out to have a connection to Nagi's past. Now, that past rears its feline head. Nagi has an idea on how to raise more funds – turn her new home into a boarding house. Also, Nagi, Hayate, and
Maria
welcome their first tenant, put on a surprise birthday party, and try to move
Tama
in.
THE LOWDOWN:
If you, dear reader, regularly sample my missives on manga, then, you know that I love the
Hayate the Combat Butler
manga. Yeah, I'm still a Hayate ride-or-die chick, and I still feel myself surrendering to Hayate the Combat Butler's many charms. I am still falling into Hayate Ayasaki's capable butler arms...
Seriously,
Hayate the Combat Butler Volume 26
sees the series move into a new era, but the wacky hijinks continue. Murasaki Mansion and the disinheritance simply provide new situations for the same old comedy played out in different ways. In fact, Vol. 26 is a good jump-on point for new readers, as most of the chapters contained herein are fairly self-explanatory.
POSSIBLE AUDIENCE:
Readers looking for comedy about manga and anime can find laughs in the Shonen Sunday manga,
Hayate the Combat Butler.
Rating: A /10
Last Updated: January 24, 2022 - 11:00