Hawkman's Continuity Explained
By Hervé St.Louis
September 23, 2005 - 21:12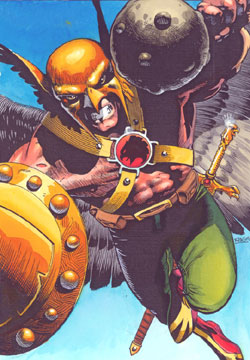 Hawkman Secret File #1
A lot of people are confused about Hawmkan. Here's something that will sort out the character and his continuity for all fans. And if it isn't listed here, it doesn't matter and you need not worry about it.
There are three sets of Hawks in the current continuity.
I-Carter Hall, Shiera Saunders. Reincarnated from Egyptian prince and princess. Every time they die, they reincarnate. They were members of the JSA and the Satellite JLA. They are also known as the Golden Age Hawks.
II-JLI Hawkman and Hawkgirl who operated in Mid-way City. He claimed he was Carter and Shiera's son sent to Thanagar as a kid to study. He was in fact a Thanagarian spy called Fel Andar who had married an Earth woman called Sharon Parker. During the Invasion crossover, he switched back, when Sharon discovered his secret plan and killed her. Martian Manhunter and Amada Waller covered it up. He returned to Thanagar and returned later during Hawkworld. He is a villain.
III- Katar Hol and Shayera Thal. Policemen from Thanagar sent to capture Byth and act as diplomatic envoys with Earth after the Invasion from Thanagar.
Katar absorbed the Hawk avatar during Zero hour crossover and was driven mad. It contained the souls of all previous Hawk avatars, including Carter Hall and Shiera. He kind of died.
Shayera Thal appeared in a few issues of Geoff Johns' Hawkman and returned to Thanagar. Shayera died in the 2005 Rann-Thanagar mini-series when she was betrayed by Blackfire, Starfire's sister.
IV - Kendra Saunders. When Shiera died by being merged with the Hawk avatar inside Katar Hol, her soul went to her grand niece Kendra who attempted to commit suicide. Kendra's soul died but Shiera took over.
This is it. Very simple.
So all Thanagarian technology used by the Hawks was available since the 1940s because the Golden Age Hawks had gotten them from Paran Katar, a Thanagarian scientist, scout and friend. He was Katar's father.
Another addition is Charley Parker, the Golden Eagle. The Golden Eagle was Hawkman's teen sidekick, like Robin is to Batman. He was also a member of the Teen Titans, specifically, the Westcoast branch. He was killed during a Titans adventure against the Wilderbeests. Charley Parker was recently revealed to be Ch'al Andar, the son of the Thanagarian fake Hawkman, Fel Andar and his Earth wife, Sharon Parker. They gave him up for adoption when he was four year-old. Later, Fel Andar gave Charley a the Thanagarian flight suit and wings that allow him to fly. When Charley was killed by the Wilderbeest, he was rescued by his father who nursed him back just before his death. Charley feels that both Hawkmen Carter Hall and Katar Hol have upstaged his father and are not real representative of the Hawkman symbol. He is a Hawkman villain.
Northwind is the god-child of Carter Hall and Shiera Saunders. he was a member of Infinity Inc, where the relatives and offsprings of the JSA operated. A mix of a bird-like race and a human, Northwind evolved into his people's features and lost the ability to speak. His appearance is similar to the Kingdom Come Hawkman. He recently fought the JSA.
Now you may ask yourself who were the Silver Age Hawks? Forget about them, since Crisis, they don't exist anymore. The Hawkman and Hawkgirl in the three issue mini-series written by Ben Rabb don't exist at all. It was but an Elsworld mini-series that is not in continuity. Elsworld stories are based on elements of the DC universe and characters but with some modifications.
Back to the old hawks. Carter Hall and Shiera were the Hawks in the JLA up to the Crisis. Just before the Crisis, most of the old JLA quit. The members of that team are often referred to as the Satellite JLA.
They were replaced by a new League made up of a few seasoned pros like the Martian Manhunter, Zatanna and Aquaman and a bunch of new kids. This League is referred to as the Detroit League, because they were based in that city.
When the Detroit League was disabled, it was replaced by the Justice League International, written by Keith Giffen. In a few stories featuring that League, an Hawkman and an Hawkwoman did guest star. These Hawks were Fel Andar and his Earth wife Sharon. At the time, Carter and Shiera were fighting demons in another dimension with the other JSA members.
Please take time to note the specific spelling of several characters's names. The Golden Age Hawkgirl's name is Shiera. Often, her family modernized the spelling of their name by omitting the "u," and spelling it Sanders, instead of Saunders.
The Thanagarian Hawkwoman's name is spelled Shayera. She is the one ion the Justice League cartoon. Her mother was also named Shayera. Her mother was daughter of an official raped by another Thanagarian nobleman. She only found out about this years later. Shayera's grandmother is called Hyantis. Hyantis was a Justice League villain. It is still not clear whether it was the same Hyantis that plagued the early Justice League. However, it is implied greatly, although she looks older today, than in the Justice League.
Please note that Fel Andar's name is "Andar," not "Andor." Please note that Katar's name is "katar," not "Kator."
Normally, following the Thanagarian convention, Charley Parker's Thanagarian name should be Andar Ch'al, as opposed to Ch'al Andar. Thanagarian sons usually inherit the surname of their father as their first name.
Read related reviews such as:
The Hawkman and Hawkgirl Action Figure Set Review
Kingdom Come Hawkman
Interview with Geoff Johns
The Hawkman Groupie
Last Updated: March 10, 2022 - 22:00