Toys / Comics to Toys / DCDirect
Kingdom Come Hawkman
By Hervé St-Louis
February 8, 2004 - 11:33
Kingdom Come Hawkman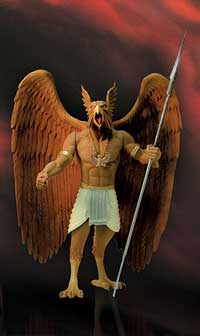 The Kingdom Come Hawkman is a great figure for those who would like to have Northwind, one of the renegade members from the Justice Society and Infinity Inc. Months ago, I passed on the Kingdom Come action figures because I haven't read the story. After hearing and seeing the quality defects of the figures, I decided to pass them entirely. I changed decision after looking at this figure carefully.


Likeness


Sculptor James Shoop patterned The Hawkman figure was carefully after Alex Ross rendition in Kingdom Come. In fact, articulations and stability were sacrificed in favour of preserving Alex Ross' Hawkman. Half of the figure's body is animal-like. The current depiction of Norda, also known as Northwind, is similar to the Kingdom Come Hawkman. Therefore, if you're looking for a great Northwind figure, this is it.


Sculpt

This figure step forwards as if it was heading off to war. Even without his wings, this figure would look imposing. They are arched and could drape the entire figure, if they were articulated. One can feel the strength in the character. His beak is opened as if he's screaming. This is great. It would be better if the figure's torso wasn't leaning so much. The sculpting job is more dynamic than usual DCDirects.

Paint

There were reports of bad paint jobs in several early Kingdom Come figures. As my figure was a peg warmer, I believe it must have been an early one too. Fortunately, the figure I have was free of major paint defects. There are highlights in the wings, the head and the claws of the Hawkman. There are some details on his skirt. The figure would look better if DCDirect had painted his feathered tights like his wings.

Scale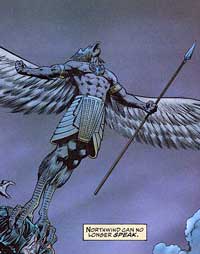 This figure is huge. It is taller than the JLA figures, the Silver Age Hawkman and Hawkgirl, and many of the JSA action figures. However, because the character is half man, half animal, his scale is not a problem. Because of his dynamic sculpt, he will fit with most DCDirect figures and some from other vendors, such as Toy Biz and McFarlane.

Stability

This figure as stability problems. There is too much weight on his left side and the feet are not parallel enough to support its weight. Of course large pinions never help. There is but a single peg hole in this figure and no action figure stands. A solution to fix this problem, that isn't perfect is to bend Hawkman's left wing as far as possible on his back, while letting the right one flap. It distributes his weight better.

Articulation

The Kingdom Come Hawkman has seven articulations at the neck, the shoulders, the biceps, and the wings. The figure has no articulation from the torso down. Hip articulations, at the very least, would have been great and helped with the figure's stability. Unfortunately, DCDirect did not animate the Kingdom Come Hawkman's wings, like they had with the Silver Age Hawkman and Hawkgirl set. It would have rocked.

Plastic

Hawkman's plastic is tough. However, at the time of the figure's release, there were many reports of broken wings, scratches, missing chips and similar problems. To support heavy wings like Hawkman, a strong plastic is needed. In my copy, the plastic's quality is not an issue.

Props

Hawkman comes with an Egyptian necklace with painted motives. There's also a long spear which fits well within the character's left hand. An action figure stand would have been great.

Packaging

Hawkman comes in a big box with a wide opening letting people see the figure very well. The box has the colours of the Kingdom Come graphic series and a cardboard with an Alex Ross picture. It is a good packaging.

Cost

Kingdom Come figures were sold by DCDirect as packs, which reduced their retail price when store owners bought cases. This was a great saving for stores and fans. However, stores and fans who did not purchase sets had to pay more for them. Some stores tried to force customers from buying entire sets. This is not a great policy for fans, though stores risk accumulating peg warmers.

Availability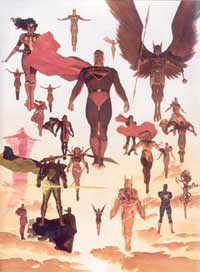 The Kingdom Come Hawkman is one of the few figures from the first series that's available in many places. This figure may even be available in cheap bins already because it was the least popular of the Kingdom Come characters in the set. Its different styling may not please DCDirect fans who favour more standard sculpts and poses. However, Northwind fans should pass up this great opportunity. It's a great figure.

Update February 6 2005:

This figure has sold out from Diamond Comics, the exclusive distributor of this action figure.
Last Updated: January 24, 2022 - 11:00