G.I.Joe Makes a Stunning Return!
By Randy Herkowitz
March 20, 2008 - 08:54
YO JOE! If this well beloved battle cry of G.I.Joe: A Real American Hero sounds familiar, than you are most likely one of the lucky children to grow up during the 1980's.


G.I.Joe action figures started its roots in 1964 with the advent of "America's Moveable Fighting Man". They were twelve inch dolls similar to the Barbie doll but made for boys, with interchangeable war related outfits, weapons and accessories. G.I.Joe had an excellent run lasting until 1978 when times started to change and children were clamoring after other products such as Star Wars action figures.
Enter 1982! Hasbro was ready to reinvent the G.I.Joe franchise with a new, fresh take with a storyline featuring, good guys, bad guys and a comic book to tell the story. Thus was born, G.I.Joe: A Real American Hero!
Hasbro created this new line in a smaller more practical scale for use with vehicles and accessories with the then popular three and ¾ inch scale action figure. G.I.Joe: A Real American Hero was an instant success. The series not only had good guys with depth to their characters but their primary enemy "Cobra" had equally if not more exciting characters.
G.I.Joe: A real American Hero fought their enemy Cobra through the well written comic book by Larry Hama (published by Marvel comic books) and soon to follow was the fun weekday afternoon animated series (also produced by Marvel comic books and Sunbow Productions). These accompanied media supported outlets undoubtedly helped bring the characters to life and was certain to be an integral part of selling the action figures and related products. However, everything must eventually come to an end.
In 1994, G.I.Joe: A Real American Hero could not contend with the changing action figure market due to the popularity of other successful action figure lines such as, Spawn, X-Men, Star Trek & Star Wars
The G.I.Joe brand itself did not lay dormant for too long. In the year 2000, Hasbro Toys made an attempt to bring it back but not quite as it was. Hasbro Toys went through a few different incarnations before it returned to the three and ¾ inch scale it was best known for and sold the action figures primarily in two-packs. It was obvious by the overall quality of these new action figures that G.I.Joe was not Hasbro Toys top priority. The plastic used was of a lesser quality and the overall character designs did not carry over the magic of G.I.Joe: A Real American Hero. Nevertheless, the G.I.Joe brand would carry on in many different sub-series for the next seven years with few memorable figures.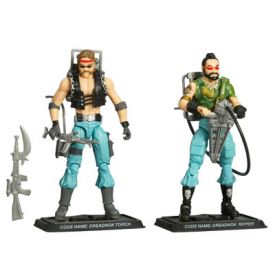 Over the past couple of years, there has been quite a resurgence of interest in action figure lines from the 1980's including, the continuing success of Transformers, Star Wars and even Masters of the Universe had a wonderful (yet short lived) new line of action figures and animated series. However, the success of the Transformers live action movie in the summer of 2007 most likely sealed the deal. The 1980's were back!
Conveniently this was around the 25th anniversary of G.I.Joe: A Real American Hero. For this anniversary Hasbro Toys wanted to do something special. They released two box sets (five action figures each) of completely newly sculpted versions of some of the most popular characters from the 1980's action figure line using updated technology for even more articulation then the originals. One box set was of the good guys (G.I.Joe) and the other of their evil adversary (Cobra).
When Hasbro Toys first released pictures of this ambitious tribute to G.I.Joe: A Real American Hero, the diehard community was divided. Many fans were upset that the action figures no longer were held together by a rubber band. Why? My only guess is the rubber band made it easy to restore or fix older figures or perhaps, they feared change. However, the rest of the fanatics and casual fans alike were ecstatic including myself as I witnessed pictures of something new and exciting that paid great homage to my childhood.
When the two box sets featuring five action figures each was released, they made quite an impact on the market and many fans clamored to get them. I think Hasbro Toys was even surprised by the instant success.
The 25th Anniversary G.I.Joe: A Real American Hero line has continued with great success especially now. Hasbro Toys was well prepared and quickly continued to release newly sculpted yet accurate updates of fan favorites like Snake-eyes and Storm Shadow in individual packaging very similar to what was seen in toy isles across America throughout the 1980's. Each action figure is packaged on a card with an accurately painted picture of the specific character you were purchasing almost identical to the packaging of the vintage series with a few minor changes and updates. On the back of the card includes the original "file card" created by Larry Hama (writer of the G.I.Joe Marvel Comic book) featuring a biography of that specific character which really helped bring them to life.
Hasbro Toys has no intention of slowing down as they are ready to release vehicles, more multi-packs and 2-packs of characters and designs of action figures inspired by the popular Marvel Comic book and if that were not enough Hasbro Toys is preparing for the feature full length film inspired by the 1980's G.I.Joe series on schedule to be released in 2009 distributed by Paramount Pictures!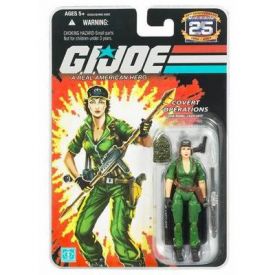 I personally have mixed feeling about this project primarily due to the resume of the films director, Stephen Sommers. His past films include The Mummy series and Van Helsing. These films in my opinion were no more then special effects shows without a truly engaging story line. However, I felt the same way about the director of the Transformers movie (Michael Bay) until I saw it. I thought it ended up being a fun movie going experience (not that I don't have my criticisms but that's another story). So, maybe I better hold judgment until I actually see it. I would just hate to see such a beloved property have its integrity destroyed.
I can guarantee Hasbro Toys are already at work preparing a large array of action figures and related toys to coincide with the film. I expect it to be a big summer event for 2009 and sure to fill retail stores with plenty of related merchandise.
To compare the original G.I.Joe: A Real American Hero action figures with the 25th Anniversary homage series would be nearly impossible. The original series is full of childhood memories that can never be replaced. That was a time of innocence for me that I think back to fondly. However, the job Hasbro Toys has done with the 25th Anniversary G.I.Joe action figures is nothing short of spectacular and is easily one of my favorite action figure lines on the market today! However, I'm apparently not the only one with this sentiment as most of the time I go to the local big box stores looking for them on the shelves; they are usually empty.
Last Updated: January 24, 2022 - 10:57