Gakuen Prince: Volume 1
By Leroy Douresseaux
March 23, 2009 - 12:48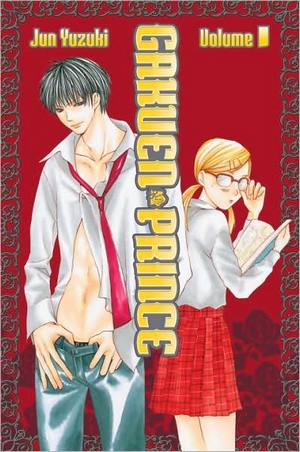 Gakuen Prince, Vol. 1 cover image is courtesy of barnesandnoble.com.
Rating "OT" for "Ages 16+"
The manga series Gakuen Prince, from creator Jun Yuzuki, is set in Jyôshioka Private High School or Joshi High. This is the elite, all-girls high school that most girls can only dream of attending, but in recent years, it has gone coed. All the male students are placed in "S-class," a rank given only to the smartest and richest students. The scarcity of male students coupled with the fact that they're all in S-class has created a frenzy among the female students, elite and "commoner" alike, in which girls frequently attack male students in order to force them into sexual submission.
In Gakuen Prince, Vol. 1, transfer student Azusa Mizutani, a tall, dark, handsome and devil-may-care boy, walks into a lion's den of sex-hungry females. He's dismissive of their lust for his body, but these girls won't be ignored. Azusa discovers that the only way the girls will leave him alone is if he already has a girlfriend, so Asuza drafts Risa Okitsu, a new female student who just wants to keep a low profile, into being his lucky girl. That only makes Risa the target of countless girls that are seething with rage and lousy with jealousy, and soon neither Risa nor Azusa is safe at Joshi High.
THE LOWDOWN: Apparently, I can still be shocked. Gakuen Prince is probably more randy and salacious than many yaoi manga titles. Ostensibly a shonen manga (boys comics), it has minor elements of shojo manga (comics for teen girls) and dances on the edge of being seinen manga (comics for adult men) and josei manga (comics for adult women). The gorgeous-looking male characters fit the bishounen (beautiful boys) manga mold, and most of the female players are straight out of Betty Page bondage art and girl gangs.
Del Rey Manga is marketing this as something for the Gossip Girls set, but Gakuen Prince is closer to shonen manga like Strawberry 100% and Pretty Face. Like the art in these two series, the gorgeous art in Gakuen Prince, with its elegant figure drawing (especially faces), may put off male readers, and that would be their loss. Gakuen Prince is actually a great read and also a bawdy, fun comic book that is like the Lindsay Lohan movie, Mean Girls, on steroids.
POSSIBLE AUDIENCE: Male and female readers will enjoy the shameless Gakuen Prince, which is thoroughly un-PC.
A-
Last Updated: February 5, 2023 - 09:06