Comics / Manga / Yaoi Manga
Gakuen Heaven-Nakajima (Yaoi)
By Leroy Douresseaux
June 12, 2009 - 09:41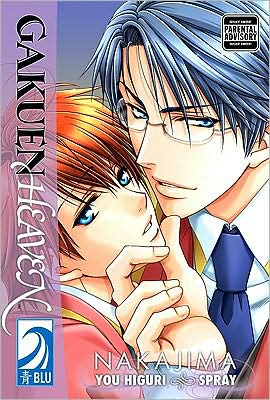 Gakuen Heaven-Nakahima cover image is courtesy of Anime Castle Books.
Rated "M" for "Mature"
Gakuen Heaven-Nakajima is the follow-up to the yaoi manga, Gakuen Heaven. Written and drawn by You Higuri, both manga are based on the video game created by SPRAY.
Like the first manga, Gakuen Heaven-Nakajima is set at Bell Liberty Academy, a boys' school for the "best and hottest" students, and the star remains Keita Itou, who as a new student struggled to fit in, but earned his place by winning an "MVP" competition. As the new story begins, Keita is still trying to find his own talent that will make him feel worthy of attending this school full of special students. This time, however, Keita has a new lover, the tall, dark, handsome, and secretive Hideaki Nakajima.
Nakajima, the Student Council Vice President, is a lover with forceful affections. He keeps Keita up until the break of dawn with his demanding, fierce, strong, and exultant lovemaking. Keita wakes up with his body feeling heavy, and he barely can make it to class after such a night of rough lovemaking. Keita, however, is feeling like he's just being used. When Keita visits the Student Council office, Nakajima is often dismissive of him, and his words seem to bite at Keita.
Now, Asano, a rival of Nakajima's, tells Keita that he has evidence of brewing Student Council scandal which has Nakajima as its center, and Keita is shocked and disheartened that what Asano says verifies his own investigation. Is Nakajima abusing his power or is Keita's lack of trust the problem? Will it doom their love?
In the "Postscript," creator You Higuri talks about wanting to draw scenes in the "perverted-mode." Much of Gakuen Heaven-Nakajima is standard yaoi material. It's a romantic drama with the usual elements: scheming rivals, gossipy teens, and a brewing school scandal that plays out amongst Bell Liberty's various political factions. Keita and Nakajima are also the typical yaoi manga couple: the tall and manly Nakajima as the seme (or "top") and the petite Keita as the spunky. bishounen cutie-pie uke (or "bottom").
But You Higuri certainly delivers on drawing in the perverted-mode. Gakuen Heaven-Nakajima is never hotter or wilder than when Keita and Nakajima start… dancing in the sheets or when Nakajima or Asano have Keita forced against a wall. Anyone who can figure out what the convoluted Student Council scandal subplot is all about deserves a big cookie. But Gakuen Heaven-Nakajima, like the first volume, really delivers when it delivers passion.
B+
Last Updated: August 31, 2023 - 08:12