Comics / Comic Reviews / More Comics
FVZA: Federal Vampire and Zombie Agency #1
By Leroy Douresseaux
August 28, 2009 - 14:05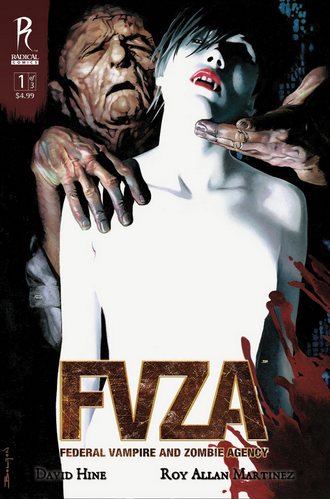 FVZA: Federal Vampire and Zombie Agency #1 John Bolton cover
Radical Comics will publish FVZA: Federal Vampire and Zombie Agency #1, the first in a three issue miniseries from writer David Hine (Civil War: X-Men, Spider-Man Noir). Unfortunately, this series is saddled with a sorry title, one that says B-movie cheesy, although FVZA has the patina of television serial science fiction dramas like Lost, Fringe, or X-Files. But what do I know; I'm just a comic book reviewer – who thoroughly enjoyed this comic book.
FVZA takes place on an alternate-Earth that is like ours in every way except for two primary differences: there is a deadly disease that transforms humans into zombies and vampires are real. Hine guides readers into the world of FVZA through the eyes of Agent Landra Pecos. Landra and her brother, Vidal, were raised by their grandfather, Dr. Hugo Pecos, who worked on the project that created a vampire vaccine. There is also a zombie vaccine that sends the undead back to their graves.
However, a new zombie outbreak forces the government to reactivate the long dormant government task force, the Federal Vampire and Zombie Agency. From the Civil War to World War II, the FVZA protected humanity from the blood-sucking, flesh-eating hordes. While the outbreak rages, Mandrake, a sly young vampire who was only recently turned into a blood-sucker, plots a grand, horrifying conspiracy that has all undead eyes on him.
It wasn't too many pages into reading FVZA that this first issue reminded me of the kind of science fiction/fantasy comix that I would have found in Epic Illustrated (1980-86), Marvel Comics' glorious, late graphic story and comics anthology magazine. In fact, with its painted artwork, FVZA could have been a Marvel Graphic Novel, or it could have been a title published under Marvel's Epic Comic imprint. FVZA also reminds me of one of those Vampire Tales or Marvel Preview Marv Wolfman /Chris Claremont Blade stories from the mid-1970s.
Hine's story and script offer hell-raising, pulp fiction fun by mixing horror and science fiction. Hine takes the social context out of the zombie (It's a metaphor for our… whatever) and adds in more gruesome mayhem, and he rips the romantic gloss off vampires, depicting them as disgusting parasites. Hine is fortunate to have highly-skilled artists visualizing this story in first-rate comic book art. That penciller Roy Allan Martinez is a skilled storyteller is a good thing; that the painted finished art by Kinsun Loh and Jerry Choo gives the story pitch perfect mood is like a million dollar signing bonus.
David Hine could be a breakout star writer, only needing his own Swamp Thing, Animal Man, or The Authority to become a newly born star. FVZA testifies to that.
A-
This comic book has two covers – FVZA #1 cover A: John Bolton and FVZA #1 cover B: Clint Langley.
Last Updated: September 6, 2021 - 08:15